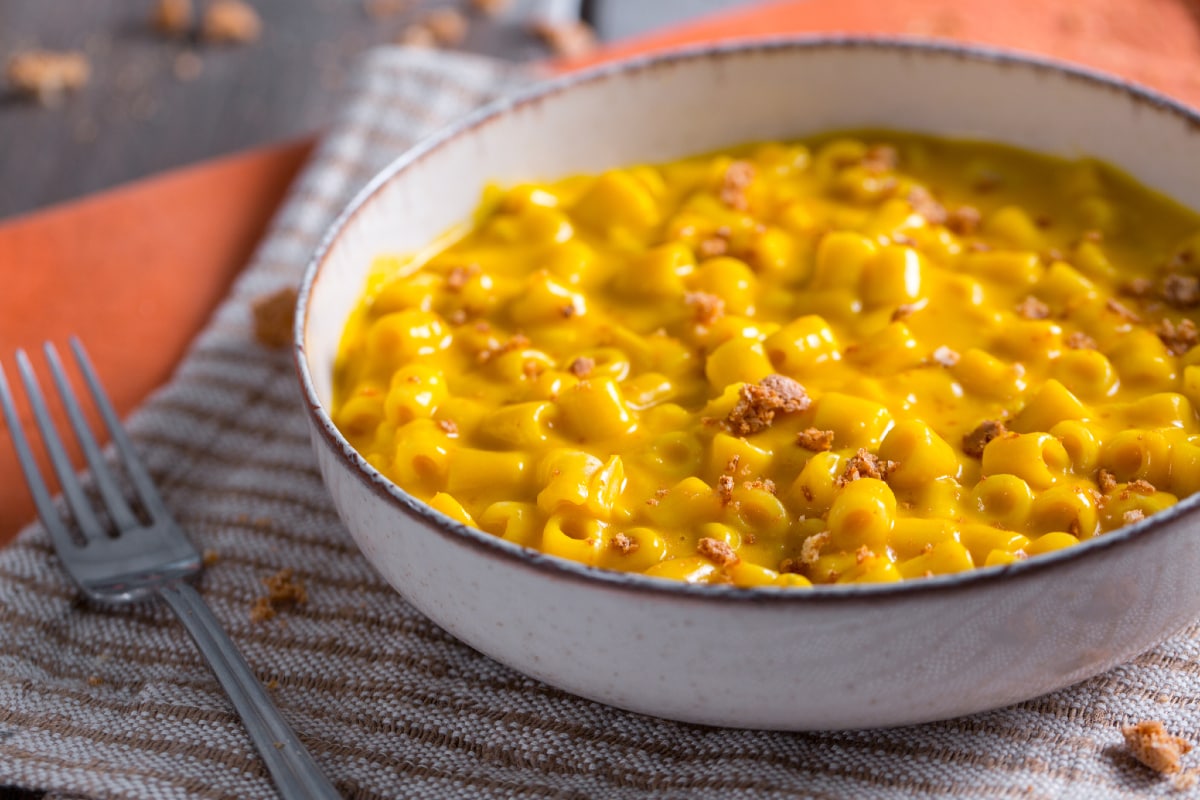 Vegetarian
PRESENTATION
Pumpkin and gorgonzola pasta is a first course that recalls autumn flavors and satisfies our desire for creaminess at the table. For an enveloping result we have chosen a small pasta format which, through "risotto" cooking, will allow the aromas to be better absorbed. To the typical pasta with pumpkin we have added some sweet gorgonzola, which with its blue notes dampens the sweetness of the pumpkin creating a perfect balance of flavors.
INGREDIENTS
Pumpkin
2
lbs
(1 kg)
Gorgonzola cheese
½
lb
(200 g)
Ditalini
¾
lb
(320 g)
Amaretti cookies
5
Rosemary
2
sprigs
Garlic
4
cloves
Bay leaves
4
leaves
Onions
½
Fine salt
to taste
Black pepper
to taste
Thyme
2
sprigs
Extra virgin olive oil
to taste
Parmigiano Reggiano DOP cheese
⅔
cup
(70 g)
Preparation
How to prepare Pumpkin and gorgonzola pasta


To prepare the pumpkin and gorgonzola pasta, first take the pumpkin, open it in half 1 and remove all the seeds with the help of a spoon 2. Then remove the peel 3.

Cut the pumpkin into cubes 4. Transfer it to a pan. Salt it and add garlic, thyme, rosemary, bay leaf and a drizzle of oil 5. Put it in the oven and cook for about 30 minutes in a preheated static oven at 355°F (180°C) 6.

Once the pumpkin is cooked, remove the aromas and blend it well 7 with a blender 8 until creamy 9.

Peel and chop an onion very finely 10. In a fairly large pot pour plenty of oil 11 and the onion. Fry over moderate heat 12.

Add the pumpkin 13 and two ladles of water 14. Add the ditalini 15 and cook.

Add water whenever necessary and add salt during cooking 16. In the meantime, cut the gorgonzola into cubes 17 and add it to the pot over the heat off together with the grated Parmigiano Reggiano 18.

Mix well until everything is well blended 19. Serve by crumbling the macaroons on the plates 20. The pumpkin and gorgonzola pasta is ready to be tasted 21.
Storage

We recommend consuming the pumpkin and gorgonzola pasta immediately, if you have leftover you can keep it in the fridge for a day. We do not recommend freezing.
Tips

This pasta shape is ideal for "risotto" cooking which allows you to better absorb all the flavors.
By cooking the pumpkin in the oven with aromas, it will not only be more aromatic but it will be of the ideal consistency to then obtain a fragrant and creamy first course.
Note

If you are vegetarian, and in addition to the consumption of meat and fish excludes cheeses made with animal rennet, you can replace the ingredient with a similar cheese made with vegetable rennet.
SHARE

/5


Source : www.giallozafferano.com