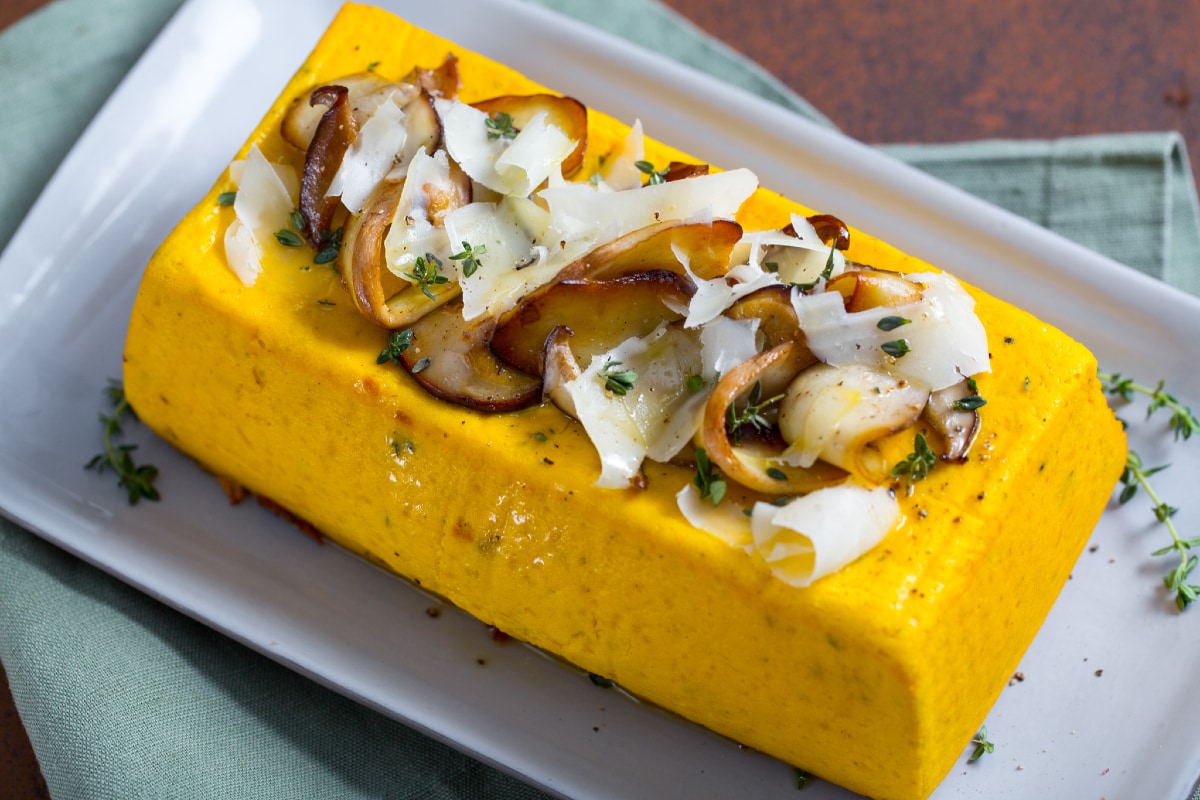 Vegetarian
PRESENTATION
Flans are mostly made with meat or vegetables and are a delicious dinner idea everyone loves. With autumn here, we thought we'd prepare pumpkin and porcini mushroom flan, perfect served as a starter or as a vegetarian second course for a lovely Sunday lunch. A soft and fluffy pumpkin flan, thanks to it being cooked in a bain-mairie, as well as the egg and cream mixture to which the previously braised pumpkin is added. We've used some simply pan-fried porcini mushrooms to decorate, along with lashings of Grana Padano DOP cheese shards, which balance the sweetness of the pumpkin with their rich savory flavor. A pinch of nutmeg and a few thyme sprigs will season this dish, although you could replace them with your favorite aromatic herbs! Let's discover just how simple it is to make this flan!
INGREDIENTS
Ingredients (for cooking the pumpkin)
Delica pumpkin
1
lb
(850 g)
Fine salt
to taste
Extra virgin olive oil
to taste
Black pepper
to taste
Thyme
to taste
Water
¾
cup
(150 g)
For the flan (for a 7.52×4″ mold)
Heavy cream
¾
cup
(210 g)
Eggs
4
(220 g)
– (around 4)
Grana Padano DOP cheese
3
oz
(100 g)
Fine salt
to taste
Black pepper
to taste
Nutmeg
to taste
Thyme
to taste
For the porcini mushrooms
Porcini mushrooms
8
oz
(250 g)
Extra virgin olive oil
to taste
Garlic
1
clove
Black pepper
to taste
Fine salt
to taste
Thyme
to taste
For decoration
Grana Padano DOP cheese
to taste
Preparation
How to prepare Pumpkin and porcini mushroom flan


To prepare pumpkin and porcini mushroom flan, start by cleaning the pumpkin. Remove the seeds and the skin 1; cut and then dice the pumpkin 2, so that you end up 1 lb. Place it in a saucepan with a drizzle of oil 3.

Add thyme, salt and pepper 4. Add the water too 5 and cook with the lid on for around 20 minutes 6.

When done, blend it with an immersion mixer 7 and leave to cool until warm. Once the pumpkin has cooled down, break the eggs open, place them in a bowl and add the thyme leaves 8. Add the cream too 9 and beat with a whisk.

Add the 3.5 oz of grated Grana Padano DOP cheese 10, the salt 11, the pepper and the nutmeg. Stir thoroughly and lastly, add the pumpkin 12.

Place the mixture in a buttered 7.5″x4″ sponge cake mold (2.8 inches tall) lined with parchment paper. Place the mold on a baking tray 13 and pour hot, but not boiling water onto the tray 14. Do not fill it right to the top: roughly 3/4 of the baking tray will be enough. Now cook in this bain-marie in a preheated static oven at 356° for 90 minutes.

Clean the porcini mushrooms in the meantime. Remove the parts of the stalk covered in soil and brush any remaining soil away 16. When the flan is nearly done, cut the mushrooms into slices 17. Place a drizzle of oil in a pan with two unpeeled garlic cloves. Leave to brown, then add the mushrooms 18.

Add a couple of thyme sprigs 19. Add salt, pepper, and cook for 5-6 minutes on a low flame 20. Remove the flan from the oven as soon as it is done 21.

Wait around ten minutes, then lift the mold, dry and turn it over on a serving plate 22. Remove the parchment paper 23 and top with the porcini mushrooms and the Granda Padano DOP cheese shards 24. Your flan is ready to be served.
Storage

The flan can be stored in the refrigerator for 1-2 days. Freezing is not recommended.
Tips

Instead of a sponge cake mold you can make single portions with single-use aluminum molds. Cooking times will be shorter in this case.
You can serve the flan with a cheese fondue of your choice.
SHARE

/5


Source : www.giallozafferano.com