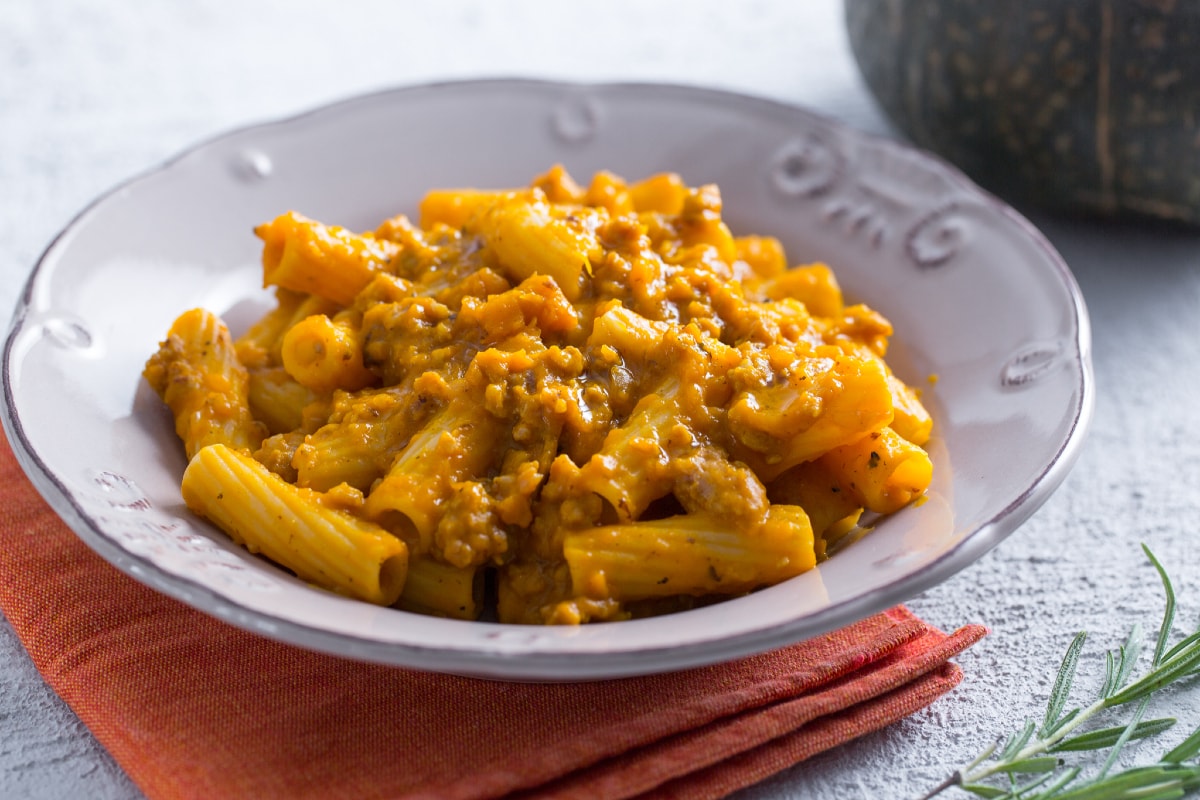 Energy
Kcal
603
Carbohydrates
g
70.2
  of which sugars
g
5.9
Protein
g
23.3
Fats
g
25.5
  of which saturated fat
g
9
Fiber
g
2.9
Cholesterol
mg
50
Sodium
mg
1049
PRESENTATION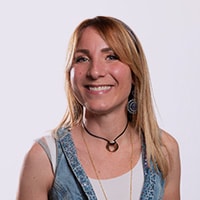 Recipe by
Luisa Orizio
Pumpkin and sausage are one of the combinations we love most in fall. And after all the combinations we've tried, this delicious pumpkin and sausage pasta was still something new to us. A tasty, flavorful first course dish, it's sure to be a hit with the whole family. The sweet flavor of the pumpkin is the perfect pairing for the full savory flavor of the sausage, giving this pasta a wonderfully balanced taste. The pumpkin will fall apart as it cooks, turning into a delicious cream, jazzed up with the Parmigiano cheese, which will envelop the tortiglioni pasta and pull the dish together. This pumpkin and sausage pasta is a cinch to make – just follow our steps!
INGREDIENTS
603
Calories per serving
Tortiglioni pasta
¾
lb
(320 g)
Delica pumpkin
1
lb
(400 g)
Sausage
½
lb
(250 g)
Yellow onions
½
Parmigiano Reggiano DOP cheese
½
cup
(50 g)
Rosemary
to taste
Extra virgin olive oil
to taste
Fine salt
1
pinch
Preparation
How to prepare Pumpkin and sausage pasta


To make the pumpkin and sausage pasta, start by preparing the sausage. Remove the casing 1, then break up the meat with your hands and place it in a warm frying pan 2. Press the meat down slightly with a wooden spoon and cook for a few minutes 3.

 
Once it's nice and golden, transfer the sausage meat to a bowl, cover with plastic wrap so it doesn't dry out, and set aside 4. Peel the onion, cut into slices, and then chop finely 5. Now turn to the pumpkin: Remove the seeds and inner strands using a spoon 6.
 
Peel 7 and cut the flesh into small cubes 8. Heat a pot of water, salted to taste, which you'll use to cook the pasta. In the same pan that you used to cook the sausage, add 3 tbsp of oil and the onion 9.

Add the pumpkin and stir well so it absorbs the flavors 10. Now add the rosemary sprigs, tied with a piece of string, and a ladleful of the pasta cooking water 11. Cook over medium heat for 15-20 minutes, then remove the rosemary and mash the pumpkin to form a purée 12. Then add another ladleful of water.

Next, add the sausage to the pumpkin purée and stir 13. In the meantime, cook the tortiglioni 14 and drain when al dente, then pour the pasta straight into the pan with the sauce 15.

Add another ladleful of cooking water if needed, and stir well 16. Now add the grated Parmigiano cheese and give it another stir 17. Heat the pasta through for a minute and then it's ready to serve 18!
Storage

The pumpkin and sausage pasta can be kept in the fridge for one day.
Tips

 
You can add some chopped chili together with the onion when you cook the pumpkin.
SHARE

/5


Source : www.giallozafferano.com