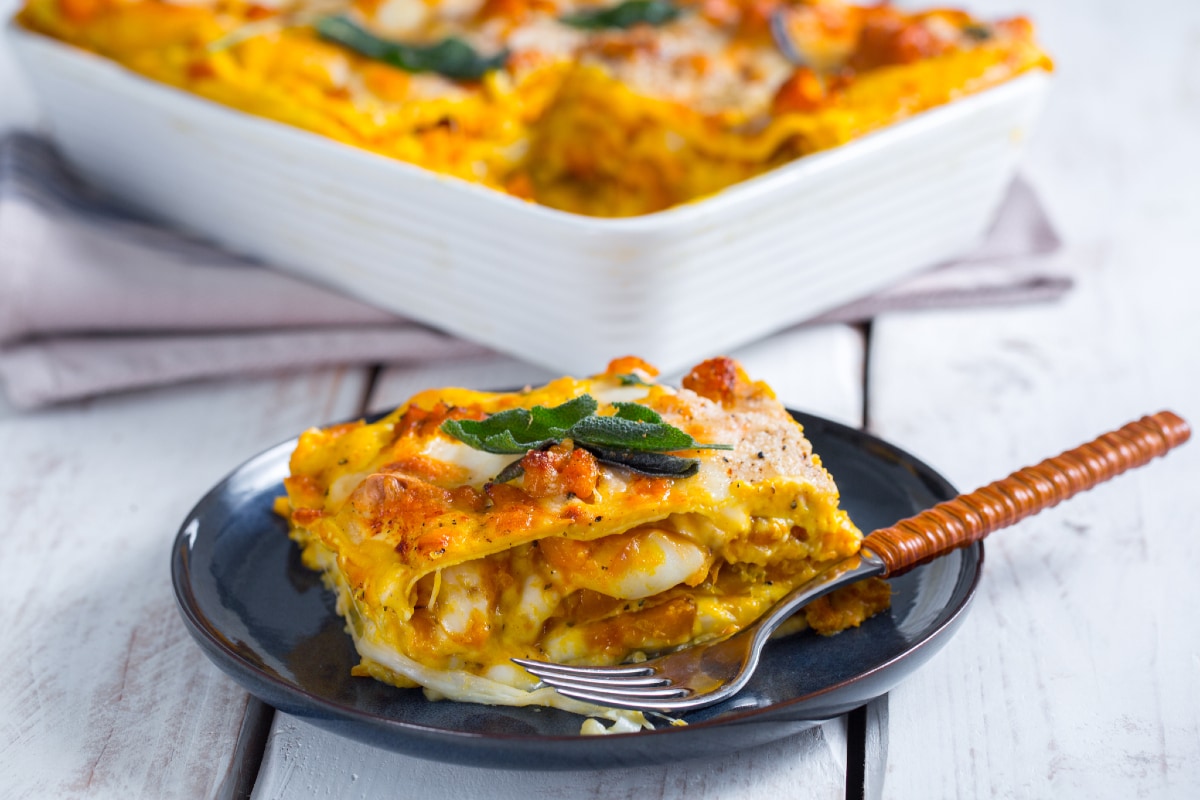 Vegetarian
PRESENTATION
Pumpkins are a sweet, fragrant treat that awaits us in fall… Who can resist their captivating flavor? Definitely not us, and we've already suggested loads of pumpkin recipes, many of which are Halloween-related. But we haven't been able to resist the temptation to try it in new versions, so today we're bringing you pumpkin lasagna! This recipe has tasty layers of lasagna and rich béchamel sauce alternating with deliciously soft diced pumpkin. We suggest making this delectable dish on cold days when you want something hot from the oven to warm up: There's nothing better than this flavorful and enveloping comfort food dish that will make you shut your eyes in delight as you enjoy the first bite!
 
Be sure to also try our white lasagna or mushroom lasagna, another unmissable autumnal variation!
INGREDIENTS
Ingredients for a 9×13-inch (20×30-cm) baking dish
Green Lasagne egg pasta
½
lb
(200 g)
– (15 sheets)
Smoked scamorza cheese
1
lb
(400 g)
Fior di latte mozzarella cheese
½
lb
(200 g)
Grana Padano DOP cheese
1
cup
(100 g)
– grated
Extra virgin olive oil
to taste
Sage
to taste
Black pepper
to taste
For the béchamel sauce
Whole milk
1 ¼
cup
(1 l)
Butter
½
cup
(100 g)
Flour 00
¾
cup
(100 g)
Nutmeg
to taste
Fine salt
to taste
For the pumpkin
Pumpkin
4
lbs
(1.8 kg)
Garlic
3
cloves
Rosemary
to taste
Fine salt
to taste
Black pepper
to taste
Nutmeg
to taste
Extra virgin olive oil
2
tbsp
(25 g)
Preparation
How to prepare Pumpkin lasagna


To make the pumpkin lasagna, start with the béchamel sauce. Pour the milk 1 into a saucepan and add the nutmeg 2, salt, and black pepper 3. Bring to a boil.

 
In the meantime, add the butter cut into cubes 4 in another large pot and let it melt. Once the butter has melted, add the flour all at once 5. Stir quickly with a whisk until you get a nice golden roux 6.

Next, add the warm milk 7, continuing to whisk. Cook until the béchamel has thickened 8, then set aside. Now move on to the pumpkin: Peel it and remove the inner seeds. Then cut it into ½-inch (1-cm) cubes 9. You should end up with nearly 2 lbs of cubes (850 g).

Next, add some oil to a pot along with the chopped sprig of rosemary 10, a peeled, crushed garlic clove 11 and add this to the pot, too. Allow the flavors to develop over medium heat and then add the pumpkin cubes 12.

Season with salt, pepper, and nutmeg 13. Stir well, let the pumpkin brown and then cover with a lid 14. Lower the heat and leave to cook for 15-20 minutes. There's no need to add water or broth because the pumpkin will release its own water, which will be enough to soften it, although remember to check to make sure it doesn't dry out too much due to the heat being too high. It's a good idea to stir it once in a while, in any case. The pumpkin will be nice and soft once it's cooked: If you can mash it easily with a wooden spoon, that means it's ready. While the pumpkin is cooking, cut the scamorza cheese into small cubes 15.

Then do the same thing with the fiordilatte cheese 16. As soon as the pumpkin is ready, pour half of it into the béchamel 17 and mix well 18.

Now assemble the lasagna: Pour a thin layer of béchamel and pumpkin 19 into a 9×13-inch (20×30-cm) baking dish, then cover with 3 sheets of lasagna arranged side by side 20, and finally add another layer of pumpkin béchamel. Add some of the diced scamorza 21, 

 
then some of the mozzarella 22, a sprinkling of Grana Padano 23, and some diced pumpkin 24. Cover with another layer of lasagna sheets. Repeat these steps until you've made 5 layers. 

 
Cover the final layer of pasta well with béchamel, cheese, and pumpkin, finishing off with some sage leaves 25. Add some pepper, a drizzle of oil 26, and cook in a conventional oven preheated to 350°F (180°C), for around 30 minutes. If the surface of the lasagna doesn't look very golden toward the end of the cooking time, put it under the broiler for a few minutes. Let your pumpkin lasagna rest for a few minutes between taking it out of the oven and dishing it up 27.
Storage

You can keep your pumpkin lasagna in the fridge, covered, for up to two days, or freeze it either before or after it's cooked.
Tips

 
A good pumpkin is characterized by a certain sweetness that it's good to balance with garlic and rosemary; if you want to take it up a notch, add some crushed red pepper and use Pecorino Romano cheese instead of Grana Padano. Use your choice of cheeses: pecorino, Taleggio, Gruyere, and toma are all some good alternatives.
SHARE

/5


Source : www.giallozafferano.com