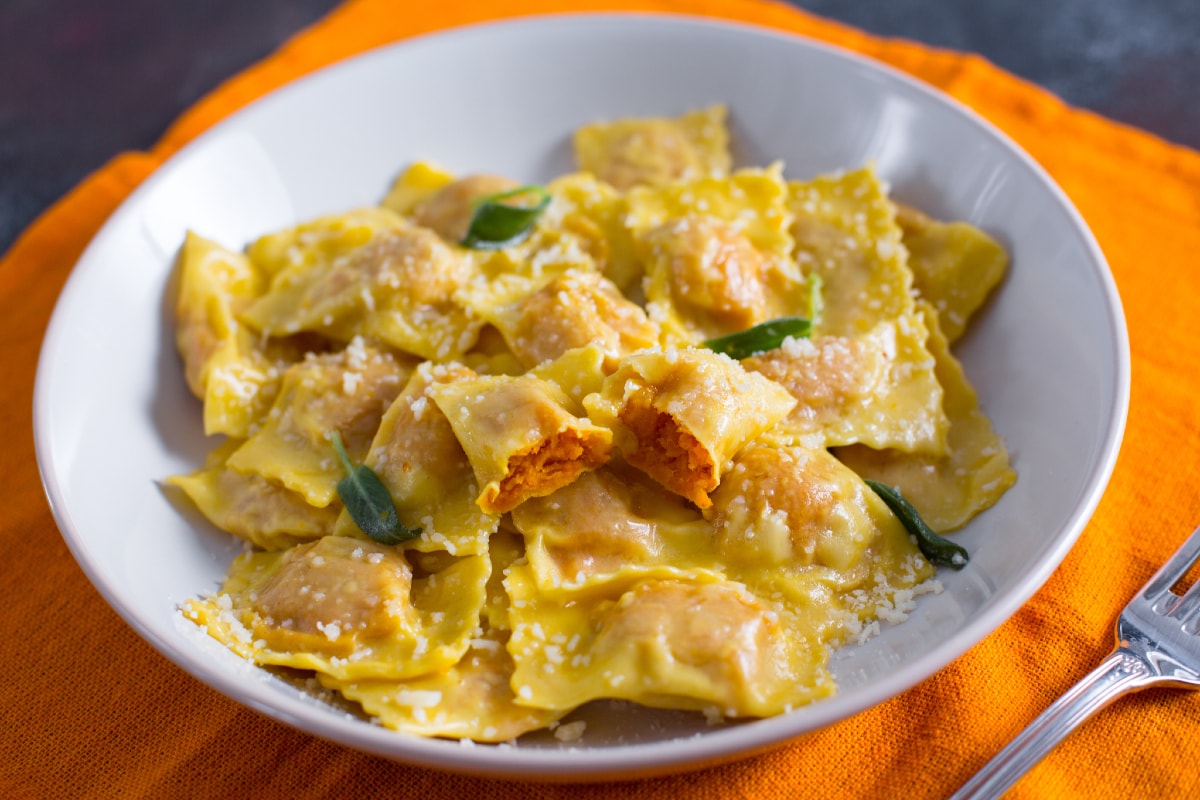 Vegetarian
PRESENTATION
It wouldn't be fall or winter without the aroma of cooked pumpkin wafting through Mantua, as it's the main ingredient in the city's standout dish, pumpkin tortelli. The recipe for this dish has been codified since the Renaissance age and strongly bears the mark of the tastes of the time: sweet and sour and rich, with sumptuous and charmingly old-fashioned ingredients such as amaretti cookies and Mantuan mustard, which give the typical sweet flavor to the filling encased in an egg pasta parcel. Chef Alessandra Viola has been carrying on the generations-old tradition in her family's historic restaurant and will show us how to make this dish that's a symbol of her region. Today, pumpkin tortelli are typically eaten on Christmas Eve, but we're sure that once you taste them, you'll want to repeat the experience whenever the weather is colder, maybe, for example, at Halloween when pumpkins are plentiful. This is an unforgettable dish to share with friends and family that will make you feel like you're at the court of the Duke of Mantua!
 
INGREDIENTS
For the pasta dough (makes around 80 tortelli)
Flour 0
3
cups
(360 g)
Eggs
4
– medium
Fine salt
to taste
For the filling
Delica pumpkin
1
lb
(500 g)
– (already cleaned)
Mantuan mustard
1 ¾
oz
(50 g)
Parmigiano Reggiano DOP cheese
½
cup
(50 g)
– (grated)
Amaretti cookies
¾
oz
(25 g)
– (chopped)
Lemon peel
½
Nutmeg
to taste
Fine salt
to taste
Black pepper
to taste
For the sauce
Butter
to taste
Sage
to taste
Parmigiano Reggiano DOP cheese
to taste
Preparation
How to prepare Pumpkin tortelli


To make the pumpkin tortelli, start by preparing the filling: Clean the pumpkin and cut it into slices around 1 1/4 inch (3 cm) thick 1, then remove the skin and chop the flesh into even-sized pieces so they will cook evenly 2. Arrange the pieces of pumpkin on a sheet pan lined with parchment paper 3 and cook in a conventional oven preheated to 340°F (170°C) for around 20-30 minutes.

Check whether the pumpkin is soft enough by pricking it with a fork. Once cooked 4, pass the still-warm pumpkin through a potato ricer into a large bowl 5. Crumble the amaretti cookies into a fine powder 6 and then add them to the bowl, too.

Next add the chopped Mantua mustard 7, grated Parmigiano Reggiano cheese 8, and lemon zest 9.

 
Then season with nutmeg 10, salt, and pepper 11. Stir everything well to combine until you get a fairly dry and dense mixture 12. Cover the bowl with plastic wrap and place in the fridge for around 8 hours.

 
To make the fresh pasta, pour the flour onto a pastry board and make a well in the middle 13, then lightly beat the eggs 14 and add them to the well along with a pinch of salt 15.

Using a fork, begin to take the flour from the sides and bring it toward the middle 16. When the mixture starts to become consistent, continue to knead with your hands for around 5 minutes 17. Shape the resulting dough into a little mound, wrap it in a clean dish towel or plastic wrap 18, and leave it to rest in the fridge for around 30 minutes.

After this resting time has passed, you can roll out the pasta: Flatten the mound with your hands 19, dust it with flour, and pass it through a pasta machine 20. You will need to get a very thin sheet, so pass the dough as many times as necessary to get the smallest thickness, taking care to dust with flour every once in a while 21.

Divide the pasta sheet into 2-inch (5-6-cm) squares using a fluted pasta cutter wheel 22. Place a dollop of pumpkin filling in the middle of each little square 23. If the pasta is too dry for it to stick, you can spray it with a little water 24.

Close the tortelli by folding the square in half 25, and then press around the edges well with your fingers to seal 26. Repeat these steps to form all of the pumpkin tortelli 27.

 
Now it's time to cook them: Bring a pot of salted water to a boil. Meanwhile, melt the butter in a frying pan together with a few sage leaves 28. Cook the tortelli in the boiling water for 1-2 minutes 29, then drain and add directly to the pan with the melted butter 30.

 
Give them a few flips in the pan to heat through and distribute the butter dressing 31, then plate up the tortelli and finish off with a sprinkling of grated Parmigiano Reggiano 32. Your pumpkin tortelli are ready to be enjoyed 33!
Storage

These pumpkin tortelli can be kept in the fridge for one day before cooking them. Otherwise, you can freeze them and eat within a few days, cooking directly from frozen.
 
Once cooked, we recommend eating them right away. Any leftovers can be kept in the fridge for one day.
Tips

Delica is the best pumpkin variety for this recipe, although the consistency of the flesh can vary due to many factors: If the filling mixture is too moist, you can add some breadcrumbs, although take care not to go overboard. If the filling is still too soft to be handled using your hands, you can use a pastry bag without a tip or with a long plain tip.
It's important to mash the pumpkin while it's still warm, otherwise, it will tend to dry out.
 
The pumpkin tortelli can also be served in a tomato and sausage sauce rather than dressed with the classic butter and sage!
Hostaria Viola

Passion and excellent raw materials are two of the leading features of the restaurant Hostaria Viola in Castiglione delle Stiviere. This intimate, well-kept osteria has seating for 40 and serves up traditional specialties with some innovative twists.  Alessandra Viola carries on the name and tradition of her family's historical eatery, skillfully maneuvering between the stove and expanses of fresh pasta, making each diner's experience unique and special, every time.
SHARE

/5


Source : www.giallozafferano.com