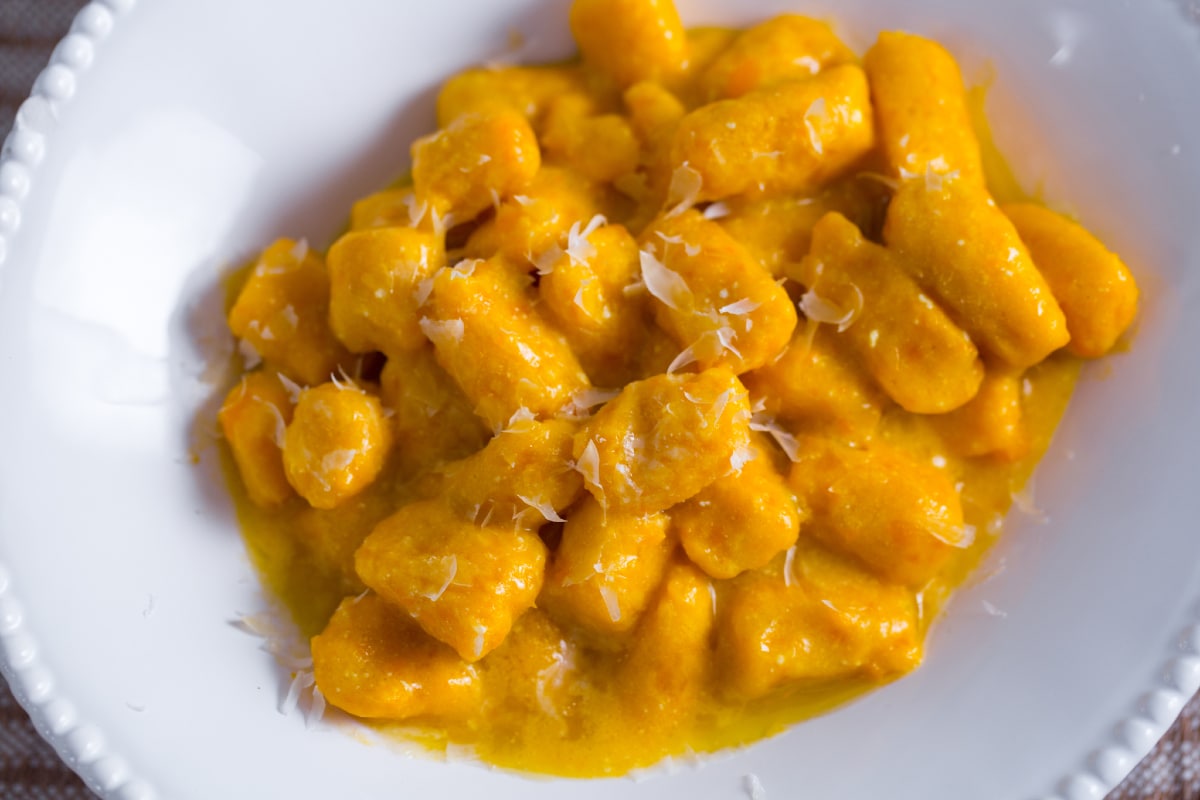 Vegetarian
PRESENTATION
If gnocchi is your passion, then don't miss our quick pumpkin gnocchi recipe, an express and clever version to prepare these delicious treats at home, which have always been reserved for the expert hands of grandmothers. A tasty dough with a soft consistency, in which potatoes are replaced by pumpkin and dipped directly into the pot. The result is a simple but tasty homemade first course, perfect for your winter menus!
 
INGREDIENTS
267
Calories per serving
Delica pumpkin
1
lb
(500 g)
– Cleaned
Cow's milk ricotta cheese
3 ½
oz
(100 g)
Flour 00
3 ½
oz
(100 g)
Eggs
1
Garlic
1
clove
Parmigiano Reggiano DOP cheese
2
tbsp
Rosemary
to taste
Fine salt
to taste
Water
to taste
For the seasoning
Butter
1 ½
oz
(40 g)
Rosemary
1
sprig
Preparation
How to prepare Quick pumpkin gnocchi


To prepare quick pumpkin gnocchi, first divide the pumpkin in half, extract the internal seeds and remove the peel 1. Divide the pumpkin into wedges first 2 then into thin slices 3.

Transfer the pumpkin to a bowl, cover it with half a cup of water 4, season with garlic and rosemary and wrap the bowl with plastic wrap 5.  Cook in the microwave for about 5-8 minutes at maximum power, until the pulp is soft. Meanwhile, pour the ricotta in a bowl 6.

Also add the egg 7, the grated cheese 8 and mix. Take the cooked pumpkin 9.

Mash it with a potato masher 10 and collect the puree in the bowl with the ricotta and egg 11.  Incorporate the flour 12.

Salt and stir to mix 13. Transfer the mixture in a pastry bag without a nozzle 14. Take care of the seasoning: in a small pan pour butter and rosemary 15.

Melt the butter over medium heat until it becomes nutty and set aside 16. Cook the gnocchi: bring a pot with salted water to a boil, squeeze some pieces of dough and let them fall into the hot water 17. The boiling must not be excessive otherwise they will fall apart.  Once cooked, drain the gnocchi 18.

Pour them into the pan with the sauce 19, toss a few moments to flavor 20 and immediately serve the quick pumpkin gnocchi 21.
Storage

We recommend consuming the quick pumpkin gnocchi immediately.
Tips

For the quick pumpkin gnocchi dressing, you can also use a simple tomato sauce, a meat sauce or a gorgonzola cream, if you love cheeses.  As an alternative to the pastrybag, you can use two spoons to take some dough quenelles and dip them in boiling water.
SHARE

/5


Source : www.giallozafferano.com