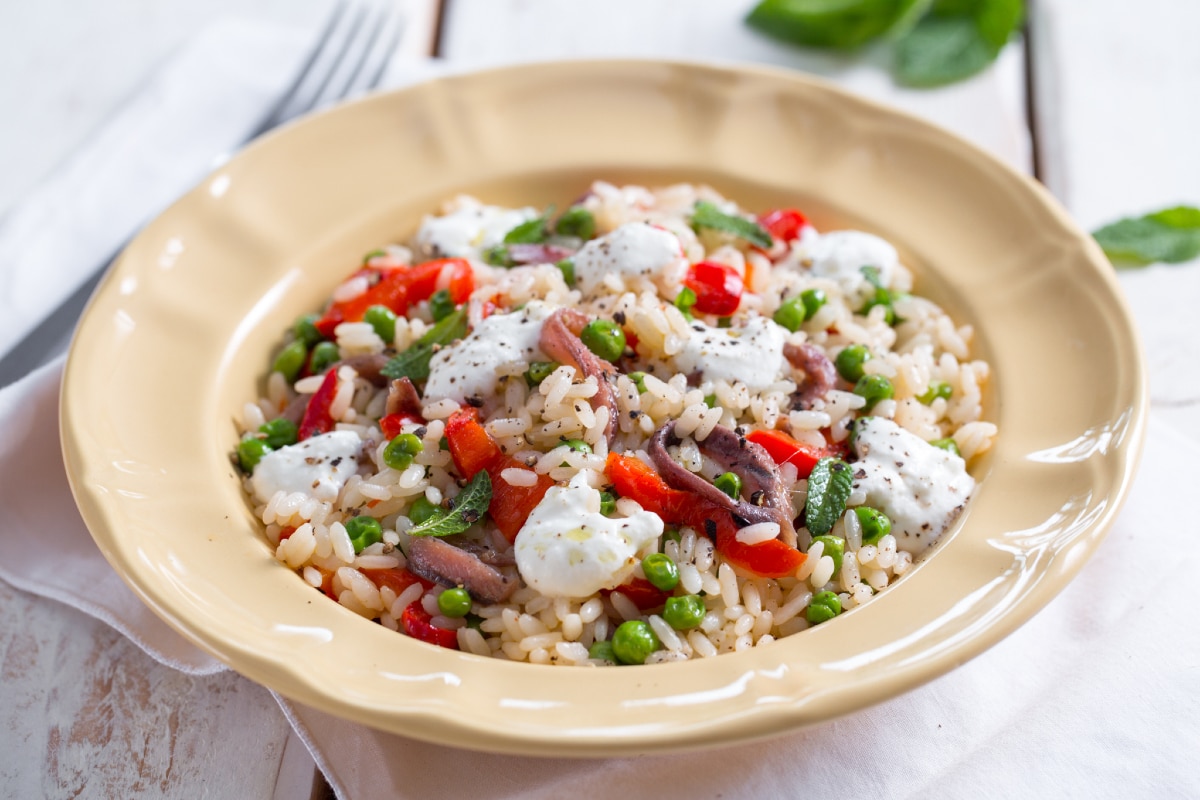 Difficulty: Easy
Prep time: 30 min
Cook time: 45 min
PRESENTATION
Rice salad with roasted peppers and mozzarella cream is a delicious alternative to classic rice salad, one of the best-loved dishes in the summer. It can be prepared in advance and stored in the refrigerator, ready to enjoy any time, after a wonderful day at the beach for example! To enrich the rice we chose some super flavorsome ingredients: roasted and skinned peppers, peas, anchovies, and a delicious mozzarella cream, which together with the mint leaves, complete this dish with a creamy and fresh touch. This salad is so simple to make, all you need to do is follow our steps and store it in the refrigerator until you are ready to serve it! Fresh, flavorsome and colorful, it will delight your palate and win all your guests over!
INGREDIENTS
Rice
1
cup
(320 g)
– for the salad
Red peppers
10
oz
(300 g)
– (around 2)
Peas
1
cup
(200 g)
Fresh chili pepper
1
Extra virgin olive oil
to taste
Fine salt
to taste
Black pepper
to taste
Anchovies in oil
4
Mint
to taste
For the mozzarella cream
Fior di latte mozzarella cheese
4
oz
(125 g)
Heavy cream
3
tbsp
(50 g)
Preparation
How to prepare Rice salad with roasted peppers and mozzarella cream


To prepare rice salad with roasted peppers and mozzarella cream, start by heating a saucepan filled with salted water, which you'll need for cooking the rice. Now thoroughly wash the peppers, place them on a hot grill 1 and cook until soft and nicely golden; turn them over often. This will take around 20-25 minutes. Place them in a bowl 2 and cover with plastic wrap 3 to make it easier for you to remove the skin later on.

Add the rice to the water as soon as it comes to the boil 4 and cook for around 12 minutes. Drain thoroughly and place it in a large bowl to cool. In the meantime prepare the peas too. Cut into the peppers 5 and place them in a pan with a drizzle of oil 6.

Leave to brown for a couple of minutes, then add the peas 7. Add salt 8 and cook on a high flame for 5 minutes 8. Then add the mint leaves 9, remove from the heat and leave to one side.

Skin the peppers, they should have cooled down by now 10. Open them in half, remove the seeds and stalk. Then cut into strips roughly 0.2 inches in size 11. Place them in a bowl and season with salt, oil and pepper 12.

Add the roasted peppers and their condiment to the rice 13, as well as the peas, after removing the peperoncino 14. Stir everything thoroughly together 15 and leave to one side to flavor. 

Now prepare the mozzarella cream. Cut the fiordilatte cheese into pieces and place it in a tall and narrow container 17. Then add the cream 18 and blend.

You should obtain a smooth and thick cream 19. Place the lukewarm rice on dishes with the peppers and peas, add the copped anchovies 20 and decorate with the mozzarella cream and fresh mint leaves 21.
Storage

You can store the rice salad in the refrigerator for 2 days, without the mozzarella cream.
Tips

For a sweeter flavor we used yellow peppers.
You can replace the peas with fresh fava beans.
Prepare the rice salad a few hours in advance and store in the refrigerator, it will be even more flavorsome!
SHARE

/5


Source : www.giallozafferano.com