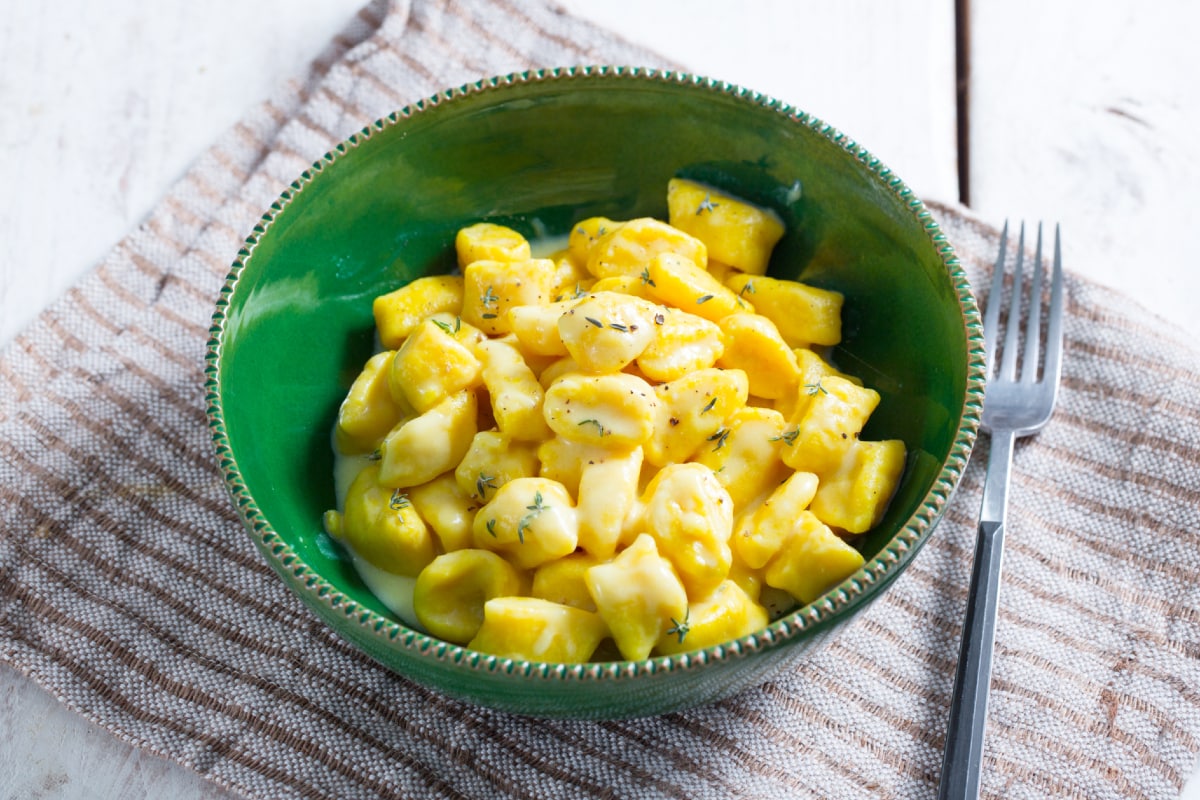 Vegetarian
PRESENTATION
Thursday is gnocchi day! Yes, but ricotta gnocchi, or better still, ricotta and turmeric gnocchi! A delicious and genuine first course that combines the properties of turmeric with the soft and delicate consistency of ricotta cheese. For this version of potato-free gnocchi we've chosen a very simple tomato-free sauce with extravirgin oil and thyme, which goes perfectly with this spice, without overshadowing it. Perfect for a vegetarian meal, ricotta and turmeric gnocchi will also be appreciated by those who pay particular attention to their well-being!
 
INGREDIENTS
Cow's milk ricotta cheese
3
cups
(500 g)
Flour 00
2
cups
(200 g)
Grana Padano DOP cheese
4
oz
(130 g)
– (for grating)
Eggs
2
– medium
Powdered turmeric
2
tsp
(5 g)
For the pastry board
Remilled durum wheat semolina
to taste
For seasoning and cooking
Grana Padano DOP cheese
to taste
– for grating
Thyme
to taste
Extra virgin olive oil
to taste
Black pepper
to taste
Preparation
How to prepare Ricotta and turmeric gnocchi


To make ricotta and turmeric gnocchi, start by placing the ricotta cheese and beaten eggs in a bowl 1; stir thoroughly 2, add salt 3 and pepper.

Add the turmeric 4, the grated Granda Padano DOP cheese 5 and the flour 6.

Stir everything together by hand 7, then place the mixture on the worktop 8 and knead into a smooth and homogeneous dough. Wrap in plastic wrap 9 and leave to rest in the refrigerator for 15 minutes.

Once this time is up, sprinkle some semolina on the worktop, divide the dough into 4 pieces and roll into strips, each roughly 0.8″ thick 10. Cut into gnochi that are roughly 0.6″ in size, using a spatula 10 and place them on a cloth sprinkled with semolina 12.

Bring some salted water to the boil in a saucepan and add the gnocchi 13. Remove them once they come to the surface and place them in a pan with a drizzle of hot oil 14. Finish cooking the gnocchi in the pan, with a ladle of their cooking water 15.

Lastly, add the grated Grana Padano DOP cheese and stir until creamy 16; add some more cooking water if necessary. Arrange onto plates, season with few thyme leaves 17 and a grating of pepper to taste. Your ricotta and turmeric gnocchi are ready to be served 18!
Storage

Ricotta and turmeric gnocchi can be stored in the refrigerator for one day at most.
If you want, you can prepare the gnocchi the day before and store them uncooked in the refrigerator. Or you can also freeze them.
Tips

Instead of thyme you can use rosemary, sage or oregano.
For a more decisive taste you can stir some grated pecorino cheese in with the ricotta and turmeric gnocchi until creamy!
SHARE

/5


Source : www.giallozafferano.com