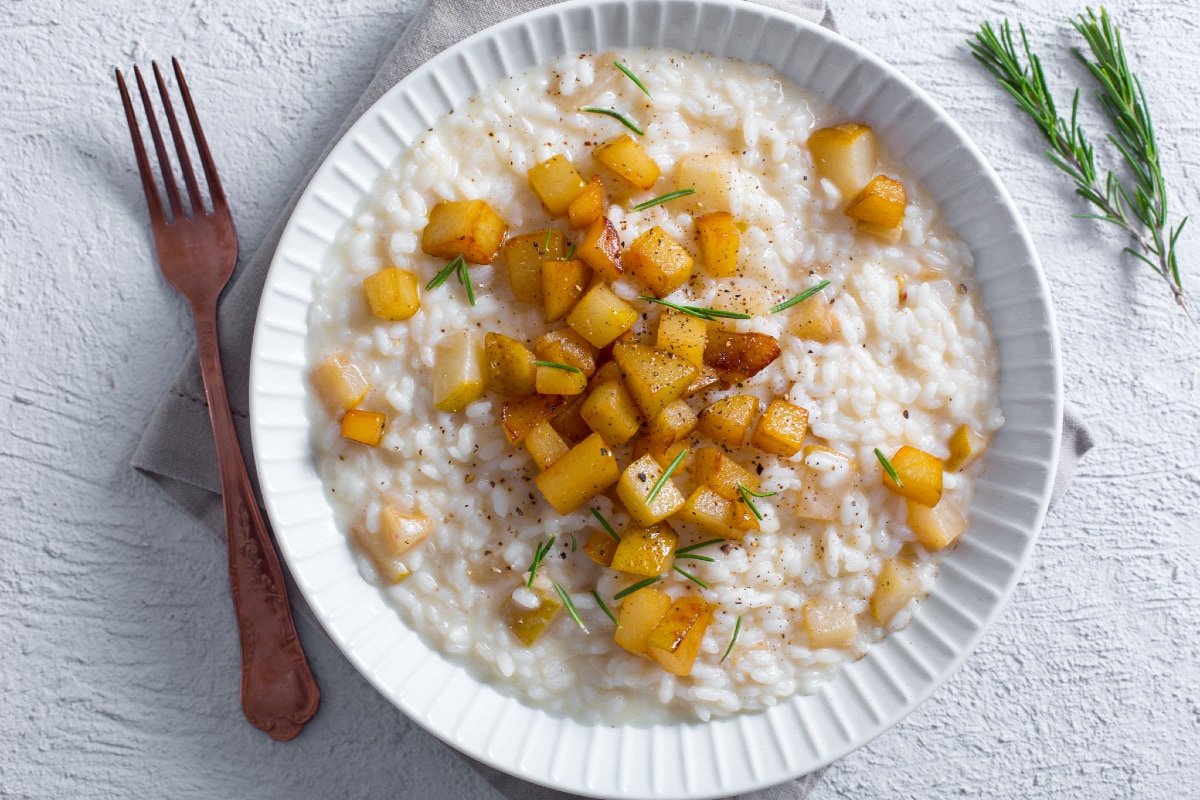 Difficulty: Easy
Prep time: 10 min
Cook time: 20 min
Serving: 4 people
PRESENTATION
Risotto with stracchino cheese, pears and hazelnut is the perfect first course for autumn and winter, in all its enveloping creaminess. Discover the most superlative expression of one of the best-loved pairings ever: cheese and pears. The sweetness of this fruit goes perfectly with the subtly pungent taste of the stracchino cheese, which we have chosen as with its soft texture it coats the rice and enriches it with flavor. The crunchiness of the hazelnuts is fundamental in balancing this dish, and its flavors are really coaxed out by delicately toasting them in the pan. We are sure your mouth is already watering, all that's left for you to do is try our risotto! 
INGREDIENTS
Rice
1
cup
(320 g)
– classic
Bartlett pears
1
Stracchino cheese
1
cup
(150 g)
Hazelnuts
6
tbsp
(60 g)
Shallot
1
Rum
3
tbsp
(30 g)
Rosemary
to taste
Fine salt
to taste
Black pepper
to taste
Preparation
How to prepare Risotto with stracchino cheese, pears and hazelnut


To prepare risotto with stracchino cheese, pears and hazelnut, peel and slice the shallot. Wash the pear, remove the stalk 2, cut it in half, core it and dice into slices that are roughly 0.4 inches in size, without peeling 3.

Heat a drizzle of oil in a saucepan 4, add the pears 5 and cook them for 2 minutes on a high flame. Add the rum to the pears, simmer and reduce 6.

Add salt 7, cook for another 3 minutes and leave to one side 8. Brown the finely chopped shallot 9 in the same saucepan.

Add the rice 10 and toast until it becomes transparent, which should take around 2 minutes. Gradually add the boiling water, one ladle at a time, and cook for 10 minutes 11. In the meantime, toast the hazelnuts in another pan 12.

Once the 10 minutes are up, add the pears to the rice 13 and cook for another 8 minutes. Remove from the heat when done, add the stracchino, stir until creamy 14, then season with the rosemary 15.

Serve the rice with the remaining pears 16, the toasted hazelnuts 17 and pepper to taste. Your risotto with pears, stracchino cheese and hazelnut is ready to be served 18.
Storage

Risotto with pears, stracchino cheese and hazelnut is best enjoyed freshly made. If any is left over, you can store it in the refrigerator for one day.
Tips

Select pears that are firm and not too ripe. You could replace the rum with brandy, cognac or white wine.
SHARE

/5


Source : www.giallozafferano.com