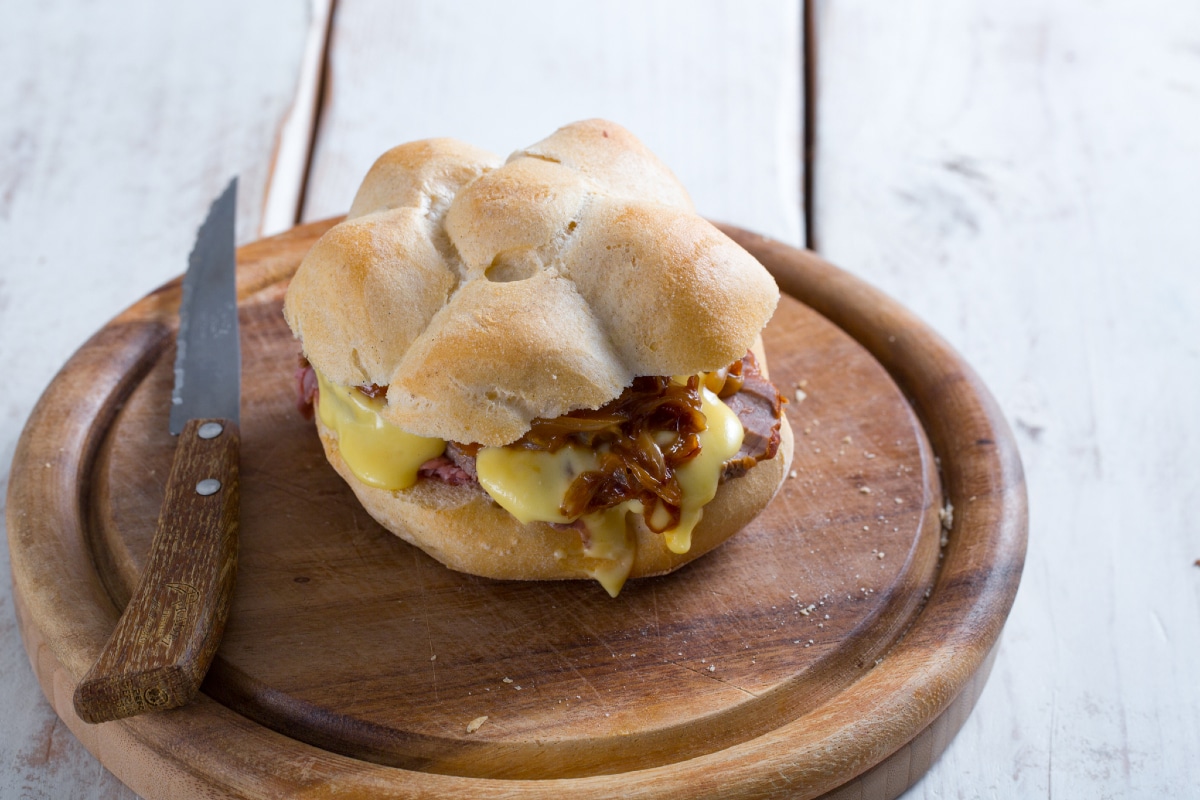 Difficulty: Average
Prep time: 30 min
Cook time: 60 min
Serving: 4 people
Cost: High
PRESENTATION
Roast beef is typical of Anglo-Saxon tradition and is delicious served with potatoes, as well as the way we present to you today. Roast beef and caramelized onion panini is a real delicacy. You can choose whether to prepare the meat specially for this recipe, or perhaps you'll use some left over from the day before: the important thing is that there is enough sauce for flavoring the bread! We used michetta rolls, which are empty on the inside, making them perfect for this filling, but you can use whatever kind of bread you prefer and, why not, even a couple of slices of homemade bread! In addition to the roast beef there are caramelized onions too: their sweet and sour after-taste is perfect with the freshly made mornay sauce, a sort of béchamel bursting with cheeses! If you are wondering what comté cheese is, well it is one of the best-know French cheeses and it runs the entire range, from fresh to mature. Don't worry if you can't find any: simply use another kind of medium hard cheese! Ready to bite into all this goodness?!
INGREDIENTS
Ingredients for the roast beef
Beef sirloin
2
lbs
(1 kg)
Rosemary
15
sprigs
Sage
3
sprigs
Garlic
1
Fine salt
to taste
Bay leaves
4
leaves
For the onions
Yellow onions
3
Butter
2
tbsp
(30 g)
Brandy
1
tbsp
(20 g)
Extra virgin olive oil
to taste
Fine salt
to taste
For the mornay sauce
Butter
2
tbsp
(30 g)
Flour 00
5
tbsp
(30 g)
Whole milk
1
cup
(300 g)
Cheese
5
oz
(150 g)
– comté
Parmigiano Reggiano DOP cheese
1
oz
(30 g)
Egg yolks
2
Black pepper
to taste
For the panini
Rolls
4
– michetta
Preparation
How to prepare Roast beef and caramelized onion panini


To make roast beef and caramelized onion panini, start with the meat. You'll need a piece already tied with a rosemary sprig. Dab abundant salt all over the meat 1 then place it in a pan with a drizzle of hot oil 2 and brown thoroughly on both sides to seal it 3, on a high flame.

In the meantime, place the aromatic herbs and the head of garlic divided into two pieces in an oven tray 4. Once the meat is nicely browned, place it over the herbs 5 and add a drizzle of oil 6. Bake in a preheated static oven at 428° for 15 minutes, then lower the temperature to 355°F (180°C) and cook for another 11 minutes. The temperature inside should reach 118.4-122°F (48-50°C). 

Prepare the onions too in the meantime. Peel and cut them in half 7, then into thin slices 8. Place a drizzle of oil in a pan and then add the onions 9.

Add a sprinkling of salt and the pieces of butter 10. Leave to wilt, stirring occasionally 11 on a low flame for around 30 minutes, until nice and soft and slightly blond. Add the brandy 12, simmer and reduce on a high flame so that it caramelizes to just the right point; this should take around 10 minutes.

Remove the roast beef from the oven when done 13 and cover with an aluminum sheet 14. Leave to rest for at least 15 minutes. Prepare the sauce in the meantime. Melt the butter in a saucepan. Add the flour all at once 15. 

Stir vigorously with a whisk to form an amber roux 16. Now add the milk 17 and stir thoroughly with a whisk 18, to prevent lumps from forming.

As soon as the sauce starts to thicken add the Comté cheese 19 and the Parmigiano Reggiano DOP cheese 20, both grated. Add pepper to taste and continue stirring until the cheeses melt 21.

Add both egg yolks 22 and thoroughly stir them in 23. Now thinly slice the meat 24.

Cut the michetta roll in half and if you prefer, toast it in a pan. Wet the bread with the meat juices 25 and place a couple of slices inside 26. Add the caramelized onions 27.

Finish with the sauce 28. Close the panini 29 and serve it 30.
Storage

Roast beef can be stored in the refrigerator for 1 day at most. Once you have made the panini, it is best enjoyed right away.
Tips

If you don't have a cooking thermometer you can use a meat probe, which is much longer; place it in the meat and be sure to reach the middle to read the temperature. When you remove it and place it against your lower lip it should be hotter than your temperature but bearable and not burning hot. Instead of comté you can use Gruviera or Emmentaler cheese.
SHARE

/5


Source : www.giallozafferano.com