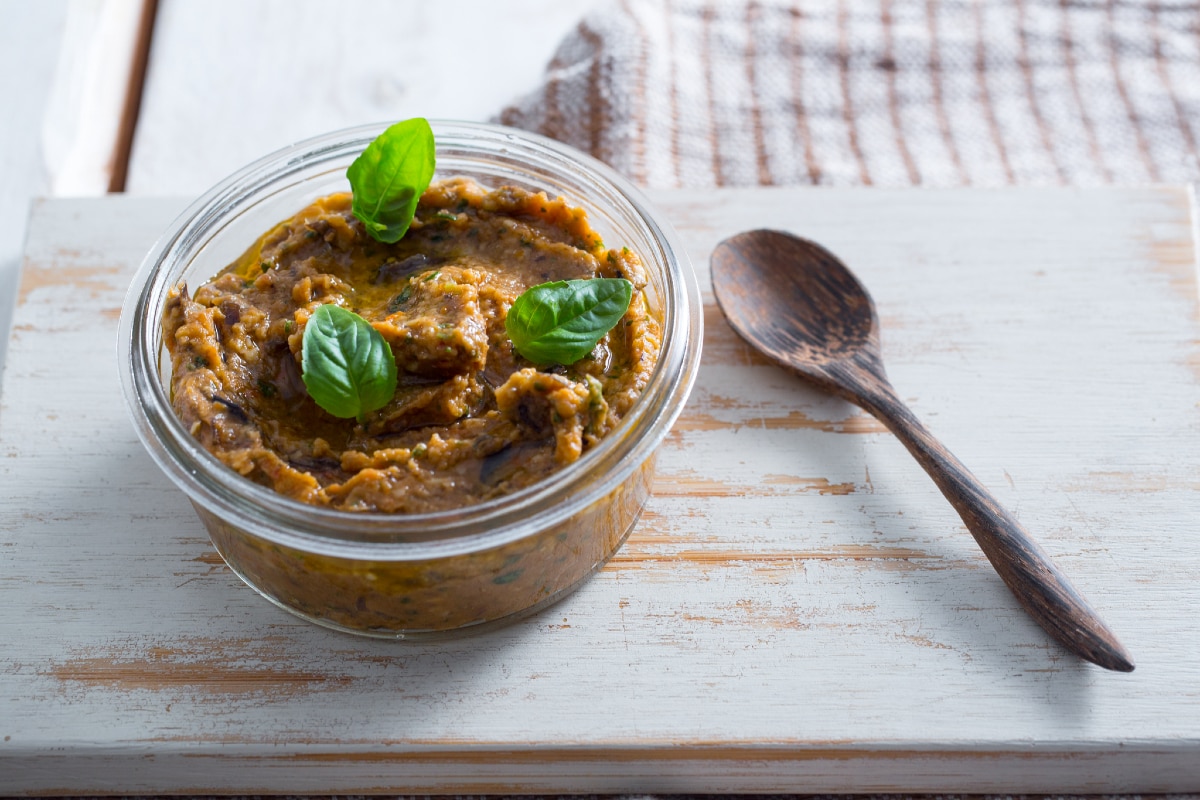 Gluten Free
Lactose Free
Vegetarian
PRESENTATION
You all loved our eggplant pesto, thanks to its versatility and thousands of uses in the kitchen. Today we'd like to show you an equally worthy version: rustic eggplant pesto, and we are sure you will love it for your summer lunches. A recipe that is easy to prepare and personalize according to your own tastes. We added dried tomatoes for a decisive flavor, whereas the roasted peanuts will add a truly special taste. Parmigiano cheese and basil are two fundamental ingredients, as traditional genoese pesto would have it. With our rustic eggplant pesto you can prepare lots of recipes, add it to pasta, or use it to enrich flat bread, panini or toast slices! Try it and discover a thousand different ways to use it! 
INGREDIENTS
Ingredients (for around 1.5 cups of pesto)
Eggplant
1
lb
(500 g)
Sun-dried tomatoes in oil
7
tbsp
(70 g)
Roasted salted peanuts
7
tbsp
(70 g)
Parmigiano Reggiano DOP cheese
3
tbsp
(20 g)
Extra virgin olive oil
5
tbsp
(60 g)
Fine salt
to taste
Black pepper
to taste
Basil
2
tbsp
(20 g)
Preparation
How to prepare Rustic eggplant pesto


To prepare rustic eggplant pesto, start by cooking the eggplant: place it on a tray with parchment paper 1 and pierce it with a fork all over its surface 2 to help it cook. Bake in a static oven preheated to 482° for 45 minutes. Remove from the oven when done 3. 

Remove the stalk 4 and check it is done on the inside, otherwise cut it in half and bake for another 5 minutes. Once lukewarm, place in the glass of a mixer 5 and add the dried tomatoes 6.

Add the peanuts 7, the oil 8 and blend for a few seconds with an immersion mixer 9.

Now add the Parmigiano cheese 10 and basil 11 and blend for a short burst so that the mixture remains coarse 12. 

Lastly, add salt 13 and pepper 14 to taste and stir with a spoon. Your rustic eggplant pesto is ready 15!
Storage

Rustic eggplant pesto can be stored in the refrigerator in a sealed container for no longer than 2 days.
Tips

If you prefer an even coarser pesto, finely chop the ingredients with a knife and stir them together in a bowl. Or if you want a smoother and velvety consistency, simply blend for longer.
SHARE

/5


Source : www.giallozafferano.com