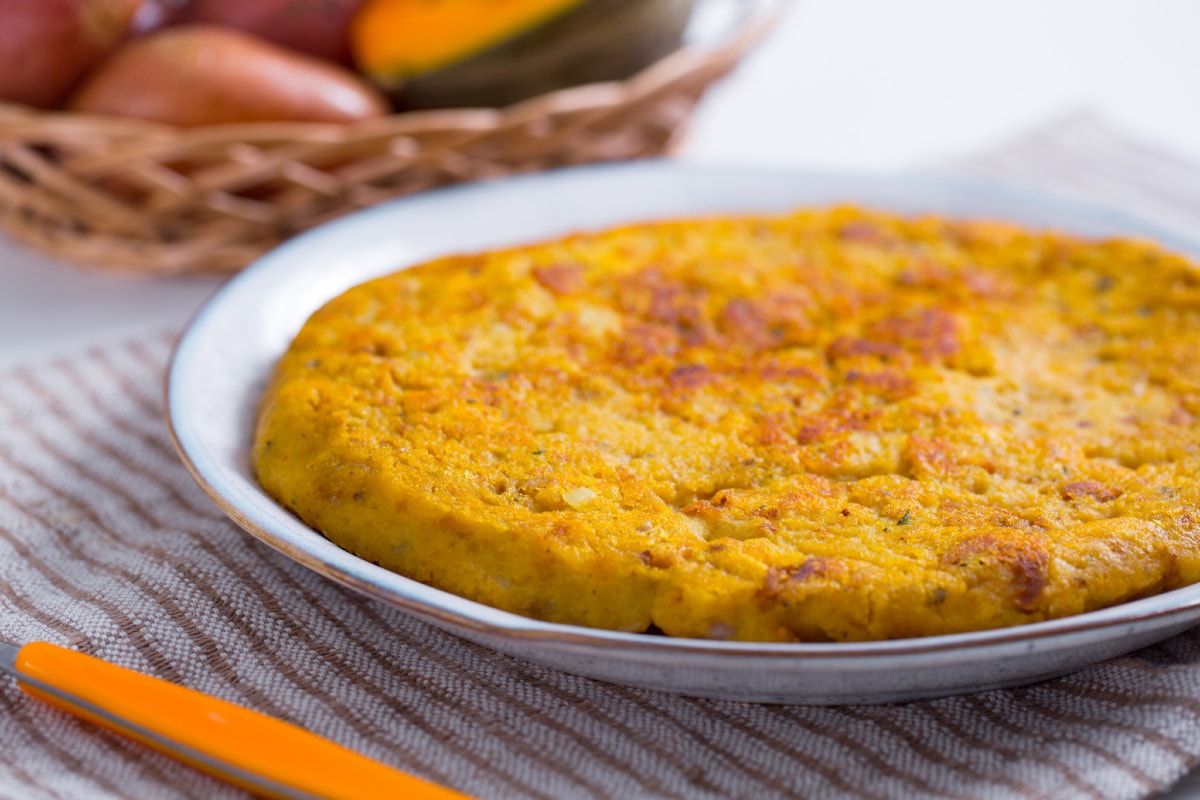 Difficulty: Very easy
Prep time: 30 min
Cook time: 35 min
Serving: 4 people
Cost: Low
PRESENTATION
If you have any old bread then don't throw it away! It can be used in many recipes, including this savory bread and vegetable cake. Bread that has been in the pantry for 2-3 days is perfect for preparing canederli, bread balls, Old bread gnocchi or traditional Bread cake. Today we're going to discover a vegan no-waste recipe: nothing but bread and leftover vegetables from the refrigerator, which you can add your delicious and personal touch to, with any ingredients to hand. We enriched the old bread mixture with pumpkin, potatoes and pulses, for a delicious base that is then cooked like an omelette… an egg-free one, of course! Savory bread and vegetable cake is also an excellent way to sneak vegetables into dishes served to even the most reticent of children! Looking forward to making it?
 
INGREDIENTS
Stale bread
8
oz
(250 g)
Potatoes
12
oz
(350 g)
Pumpkin
10
oz
(300 g)
– (to be cleaned)
Borlotti beans
2
cups
(300 g)
– fresh (to be shucked)
Red onions
4
oz
(120 g)
Sage
5
leaves
Water
1
cup
(250 g)
– hot
Extra virgin olive oil
to taste
Fine salt
to taste
Black pepper
to taste
Preparation
How to prepare Savory bread and vegetable cake


To make savory bread and vegetable cake, start by preparing the ingredients: shuck the fresh beans 1, then peel and dice the potatoes 2. Clean and dice the pumpkin too 3. You'll need around 5.3 oz of shucked beans and 5.6 oz of pumpkin pulp.

Lastly, peel and thinly slice the onion 4. Place the onion in a pan with a drizzle of hot oil 5, then add the potatoes 6.

Add the pumpkin 7, the potatoes 8 and stir for 3-4 minutes on a medium flame 9.

Season with the sage leaves 10, add salt, pepper and then pour the hot water in 11. Cook with the lid on for around 20 minutes on a medium-low flame, stirring occasionally 12.

In the meantime, dice the old bread 13, place it in a mixer 14 and blend into crumbs 15.

Once the vegetables are cooked, remove from the heat and blend with an immersion mixer 16. Add the bread crumbs to the hot mixed vegetables 17 and stir together 18.

Now heat a drizzle of oil in a pan, add the mixture and press down to smooth the surface 19. Cook for a few minutes on a low flame, just enough time to form a crust, then delicately turn the fritter over using a plate, and slide it back into the pan 20; be careful as the consistency is rather soft. Cook for a few minutes on the other side too, after which you savory bread and vegetable cake is ready to be served while still nice and hot 21!
Storage

Bread and vegetable cake can be stored in the refrigerator for 1-2 days. Freezing is not recommended.
Tips

Fresh beans can be replaced with precooked lentils or chickpeas. If you prefer, you can skip blending the vegetables and add the bread diced: the important thing is that the mixture is hot so that the bread can soften easier. You can enrich the bread and vegetable cake however you like, even with cheese, eggs and ham!
SHARE

/5


Source : www.giallozafferano.com