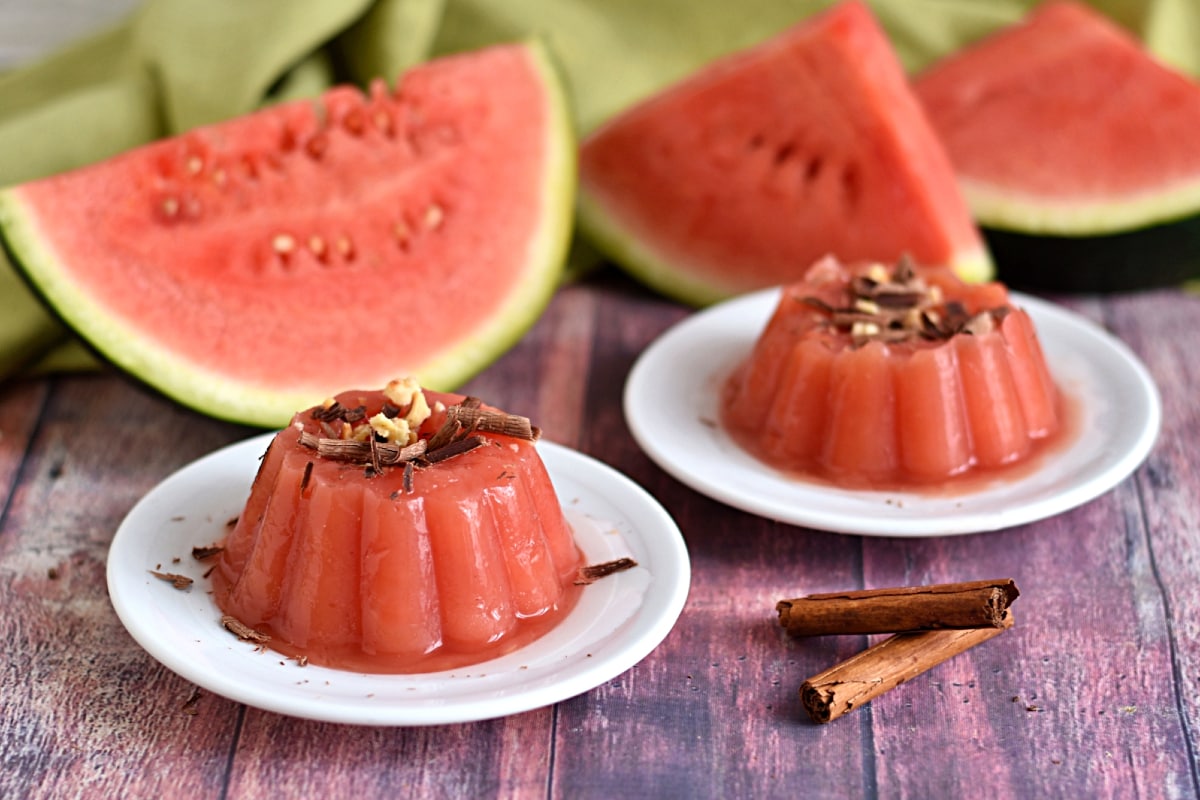 Vegetarian
PRESENTATION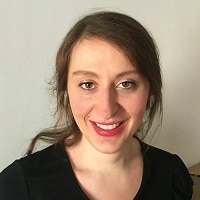 Recipe by
Francesca Meucci
Sicilian watermelon jelly is a simple dessert perfect to be served during the summer season: its intense red color and its fresh and aromatic flavor will win you over at the first taste! The main ingredient of this dessert is obviously watermelon, which must be blended and then filtered to obtain a clear juice. This is then thickened on the stove using simply cornstarch or wheat starch. To enhance the natural flavor of the watermelon, the traditional Sicilian recipe includes two aromas: cinnamon and jasmine. You can decide to present the watermelon jelly in practical single-portion desserts (using crème caramel molds) or in a single aspic mold and decorate it with chopped pistachios and/or chocolate chips.
You may also like:
Sicilian watermelon tart
Watermelon pizza
Watermelon caipiroska
INGREDIENTS
Watermelon
26
oz
(740 g)
– seedless pulp
Cornstarch
4
tbsp
(40 g)
– or wheat starch
Sugar
¼
cup
(50 g)
Cinnamon powder
1
pinch
Jasmine-infused water
1
tbsp
(15 ml)
– replaceable with 5-6 drops of jasmine food flavoring
For garnish
Pistachios
8
– chopped
Dark chocolate chips
to taste
How to prepare the jasmine-infused water

Before preparing the Sicilian watermelon jelly, you will need to obtain the jasmine-infused water.
To make it at home put 5 or 6 jasmine flowers (Jasminum grandiflorum) in 1 tbsp of water at room temperature and leave them to infuse for at least 2 hours, even overnight if you want a more intense aroma.
Then filter the water and keep it aside. Alternatively you can use 5 or 6 drops of jasmine food flavoring to put directly into the watermelon juice.
Preparation
How to prepare Sicilian watermelon jelly

Take care of getting watermelon juice: start by removing the watermelon peel and seeds, cut it into cubes and put it in a blender. Blend until you get a homogeneous mixture.
Pass the mixture through a stainer, crushing the pulp with the back of a spoon in order to obtain as much juice as possible. You need to get 2 cups (472 ml).
Transfer about 1/2 cup of the watermelon juice thus obtained into a glass and add the cornstarch. Mix vigorously with a teaspoon, until you obtain a homogeneous and lump-free mixture.
In a saucepan, combine: the plain watermelon juice, the one in which you dissolved the cornstarch, the sugar, the jasmine-infused water (or the jasmine flavoring) and a pinch of cinnamon powder.
Mix well and place the saucepan on the stove over low heat. Cook the watermelon jelly, stirring constantly: you will notice that after a couple of minutes it will take on a bright red colour. Continue to cook, stirring until the mixture becomes quite thick (it will take about 7-8 minutes).
Then turn off the stove and transfer the mixture into 4 single-portion crème caramel moulds, or into a larger 500 ml mould. Let the watermelon jelly cool at room temperature and, when it is cold, place it in the refrigerator for at least 6 hours.
Before serving them, gently unmold the jellies by placing them upside down on a dessert plate. Decorate them as desired with chopped pistachios and/or dark chocolate chips.
How to store

You can keep the Sicilian watermelon jelly in the refrigerator for about 3 days. It is not suitable for storage in the freezer.
Advice

If you have a juicer machine you can use it instead of a blender to obtain watermelon juice: it will not then be necessary to filter it through the strainer.
If you can't find jasmine flowers (or jasmine flavoring) you can do without them, your dessert will still be delicious.
SHARE

/5


Source : www.giallozafferano.com