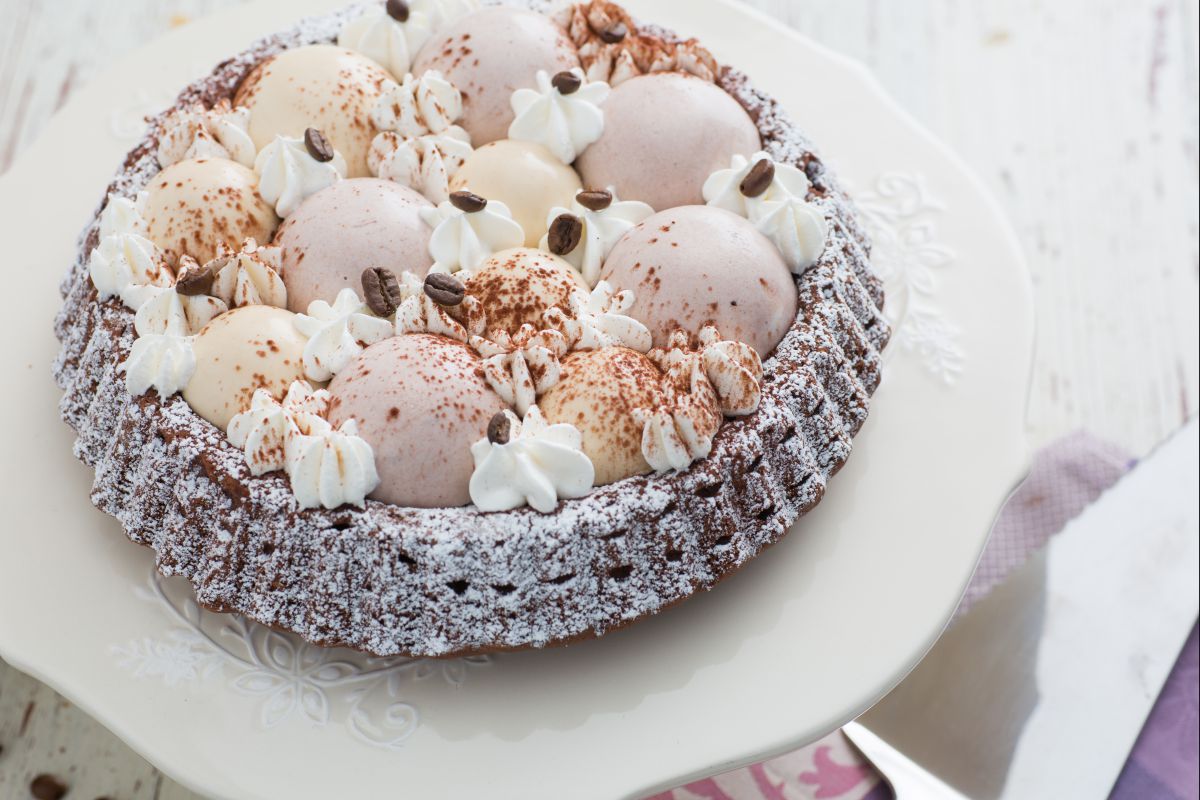 Energy
Kcal
472
Carbohydrates
g
41
  of which sugars
g
23.2
Protein
g
7.9
Fats
g
30.7
  of which saturated fat
g
17.6
Fiber
g
2.2
Cholesterol
mg
127
Sodium
mg
101
PRESENTATION
Tiramisu is one of the most beloved desserts, replicated and enjoyed worldwide. Many have attempted to reinvent it while preserving its original flavor. From cheesecake to truffles, each recipe has been a huge success… but today we tempt you with a truly special dessert: the soft tiramisu tart! The base, flavored with coffee and chocolate, is incredibly fluffy and thanks to the smart mold, it takes on a unique shape, ready to be filled with our two-flavored half-spheres! Cocoa, coffee, cream, and mascarpone combine to create an original filling that makes this dessert both scenic and perfect for special occasions!
Also, try our tasty variations of classic tiramisu:
Pistachio tiramisu
Orange tiramisu
Lemon tiramisu
Pineapple tiramisu
Strawberry tiramisu
Strawberry tiramisu without eggs
Eggless tiramisu
Vegan tiramisu
Chocolate tiramisu
Chocolate cream tiramisu
Nutella tiramisu
Gourmet tiramisu
Ricotta tiramisu
Tiramisu with dry cookies
Five spice tiramisu
Tiramisu truffles
Tiramisu semifreddo
Wild berry tiramisu
Pandoro tiramisu
Pandoro tiramisu with baileys
Pandoro tiramisu with wild berries
Colomba tiramisu
Tiramisu bundt cake
INGREDIENTS
472
Calories per serving
Ingredients for a 9 inch wavy edge pan
Cake flour
1 ⅓
cup
(180 g)
Sugar
⅔
cup
(125 g)
Butter
½
cup
(125 g)
– at room temperature
Eggs
2
Coffee
½
cup
(100 g)
– at room temperature
Unsweetened cocoa powder
1 ¾
tbsp
(10 g)
Baking powder
1 ½
tbsp
(8 g)
for the cream
Mascarpone cheese
6
oz
(170 g)
Fresh liquid cream
½
cup
(95 g)
Powdered sugar
⅓
cup
(40 g)
Coffee
6
tsp
(30 g)
– at room temperature
Unsweetened cocoa powder
1 ½
tsp
(3 g)
Isinglass
1
tsp
(5 g)
for garnish
Fresh liquid cream
½
cup
(100 g)
Unsweetened cocoa powder
to taste
Coffee beans
to taste
Preparation
How to prepare Soft tiramisu tart


To prepare the soft tiramisu tart, start by making the cream. In a bowl, pour the mascarpone cheese and powdered sugar 1. Mix with an electric whisk until obtaining a creamy consistency 2. Soak the gelatin in cold water. Then pour the cream in a separate bowl, setting aside 20 grams for dissolving the gelatin. Whip it with the electric whisk, well-cleaned 3.

Heat the reserved cream, and as soon as it is warm, add the squeezed gelatin 4 and stir until it dissolves 5. Wait a few moments so it's not too hot, then pour it into the mascarpone mixture while continuing to mix with the electric beaters 6.

Now gradually add the fresh liquid cream 7 and gently incorporate it with a spatula, stirring from the bottom upwards 8. Then divide the cream into two bowls. In the first one, add the coffee at room temperature 9

and stir 10. In the second bowl, add the unsweetened cocoa powder 11 and mix until it's evenly combined 12.

Next, divide the coffee mixture into a mold with 3 cm (1 inch) half-spheres 13, making 8 spheres. Then pour the cocoa mixture into another half-sphere mold, this time with 5 cm (2 inch) spheres 14, making 5 spheres. Place the molds in the freezer to firm up for at least 30 minutes or until the tart is ready and chilled. To keep them level, place them on a tray 15.

Meanwhile, make the base. In a bowl, combine the butter and sugar 16, then use an electric mixer to work the ingredients until they are creamy in texture 17. Add the eggs 18 and continue to mix until the mixture is smooth.

Continuing to mix with the electric whisk, add the coffee, which shouldn't be hot 19, the flour 20, and the sifted baking powder 21.

When you obtain a smooth mixture, add the cocoa 22 and incorporate it with the electric whisk. Then, butter a 22 cm (9 inch) diameter wavy edge pan and pour the mixture inside 23, leaving 1 cm (0.4") from the edge. Smooth the surface with a spatula 24. Bake in a preheated static oven at 180°C (356°F) for 35 minutes.

Before baking the dessert, always do the toothpick test and once cooked, let it cool at room temperature 25. When the dessert is completely cold, unmold it 26 and dust the edges with powdered sugar 27.

Now, whip the cream for decoration 28 and transfer it to a pastry bag with a 12 mm (0.5") star tip 29. Then, take the cocoa half-spheres out of the freezer and gently remove them from the molds 30.

Place them on the tart 31, then take the coffee ones and remove them from the molds in the same way 32. Place them on the tart, alternating them with the cocoa ones 33. Since they are smaller, they will fit together and cover almost the entire surface of the tart.

Using a pastry bag filled with whipped cream, squeeze dollops into the remaining empty spaces 34, then dust with cocoa powder 35 and decorate with coffee beans 36. Refrigerate and wait for about half an hour before serving your beautiful soft tiramisu tart!
How to store

The soft tiramisu tart can be stored in the refrigerator for up to 2 days.
Tip

You can further flavor the base with a rum or any other liquor of your choice.
If you don't have a sphere-shaped mold, don't worry. Simply follow these steps: place the two creams in separate pastry bags, chill them until firm, and then pipe the cream in dollops on top of the tart.
SHARE

/5


Source : www.giallozafferano.com