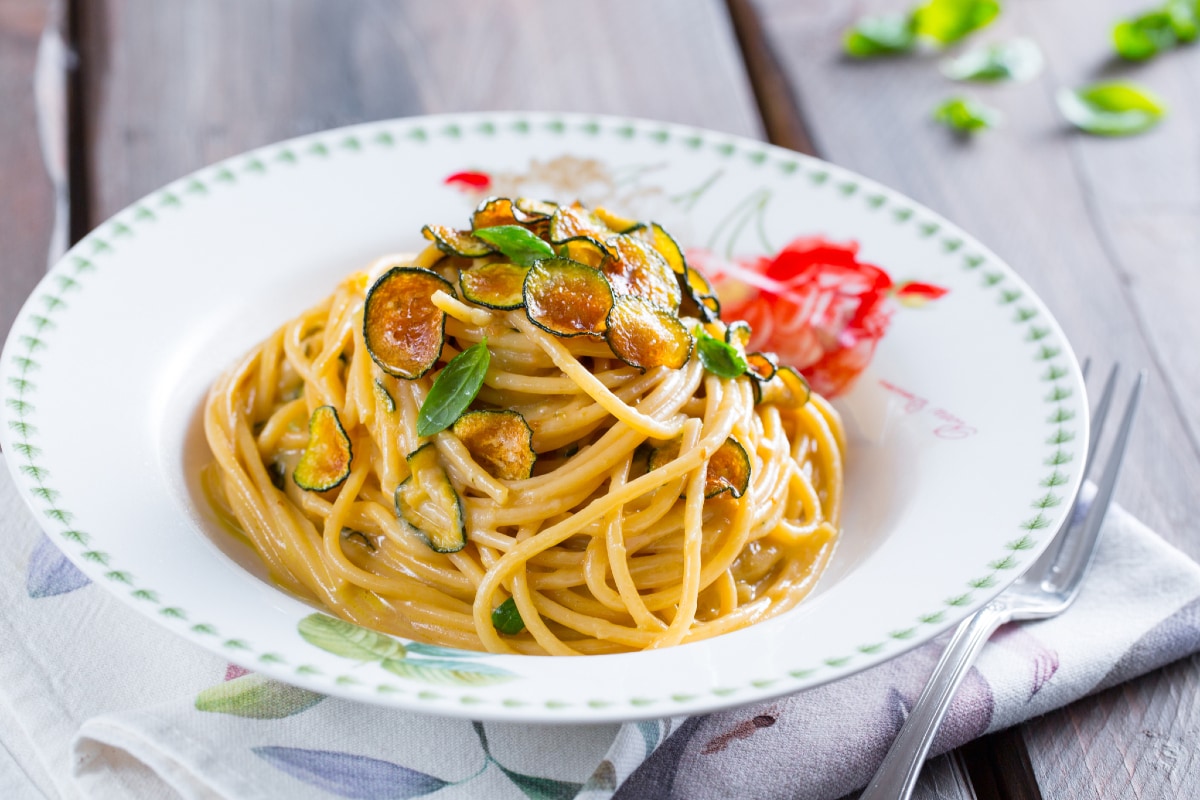 Vegetarian
PRESENTATION
With the recipe for Spaghetti alla Nerano, we bring to the table a dish with flavors from Campania, a traditional Neapolitan first course that has always conquered with its genuine simplicity. The origin of this typical preparation is surrounded by various legends, the most widespread and credited of which dates back to the 1950s: it seems that a restaurateur in the small bay of Nerano, to enhance the pasta and zucchini, tried adding Provolone del Monaco, a semi-spicy spun-curd cheese that is typical of the Lattari Mountains. The secret of the goodness of this dish lies precisely in its incredible and appetizing creaminess and the unmatched taste of this particular provolone. While waiting to savor the typical Spaghetti alla Nerano in one of the small restaurants in the town or along the Amalfi Coast, we invite you to recreate this delight at your own home, trying out our appetizing version!
Don't miss these other traditional Campanian first courses:
Spaghetti alla puttanesca
Pasta allo scarpariello
INGREDIENTS
830
Calories per serving
Spaghetti
11
oz
(320 g)
Provolone cheese
5.3
oz
(150 g)
– Provolone del Monaco or Caciocavallo (see Tips section below)
Zucchini
25
oz
(700 g)
Basil
to taste
Parmigiano Reggiano DOP cheese
¼
cup
(30 g)
– grated
Fine salt
to taste
Black pepper
to taste
Garlic
1
clove
Extra virgin olive oil
2 ½
tbsp
(30 g)
to fry
Extra virgin olive oil
– as needed
Preparation
How to prepare Spaghetti alla Nerano (spaghetti with zucchini)


To prepare Spaghetti alla Nerano, start by placing the zucchini on the heat: wash and trim them 1, then thinly slice them into rounds using a mandolin 2. Heat olive oil in a large frying pan, once the oil reaches 150°C (300°F), the ideal frying temperature, immerse the zucchini slices 3 a few at a time to avoid lowering the oil temperature, cook for about 5-6 minutes, enough time to make them golden brown.

Once cooked, drain them using a skimmer 4 and place them on a tray lined with paper towels to remove excess oil 5. As you cook the zucchini, season them with salt 6

and sprinkle hand-torn basil leaves over them 7. Set the zucchini aside and bring a high-sided pot of salted water to a boil for cooking the spaghetti. Meanwhile, grate the Parmesan and Provolone del Monaco using a coarse grater 8. Then, cook the pasta 9 until it is very "al dente" (around 6 minutes of cooking time).

Meanwhile, in a wide pan, heat 30g of extra virgin olive oil, add the whole garlic cloves to infuse the flavor 10, then remove the garlic cloves with kitchen tongs 11, and pour in the previously fried zucchini 12.

Add a ladleful of pasta cooking water 13 and quickly sauté the zucchini for a moment to soften them slightly and prevent them from becoming dry 14. After approximately 6 minutes of cooking the spaghetti, drain them directly into the pan with the sauce 15, making sure to save the cooking water.

Add a ladle of pasta cooking water, as needed, to continue cooking the spaghetti, stirring them like risotto 16: it will take about 3 minutes. Then turn off the heat. Pour in a portion of Provolone del Monaco, stirring the spaghetti to melt it and create a creamy sauce 17; once it has been absorbed, proceed to sprinkle grated Parmigiano Reggiano 18 and the remaining Provolone.

Enhance the flavor further by adding hand-torn basil leaves 19 and pour in another ladle of pasta cooking water 20. Stir well and once ready, sprinkle with freshly ground pepper. Serve your piping hot Spaghetti alla Nerano 21!
How to store

It is preferable to consume spaghetti alla Nerano right after they are cooked. Freezing is not recommended.
Tips

The secret to achieving creamy spaghetti is to avoid letting the preparation dry out too much and carefully adding the pasta cooking water little by little as needed, ensuring a perfect emulsion!
Provolone del Monaco is an aged stretched-curd cheese, produced in the Sorrento Peninsula, with a slightly spicy taste. If you can't find it, you can substitute it with a good aged caciocavallo, so as not to stray too far from the original flavor.
SHARE

/5


Source : www.giallozafferano.com