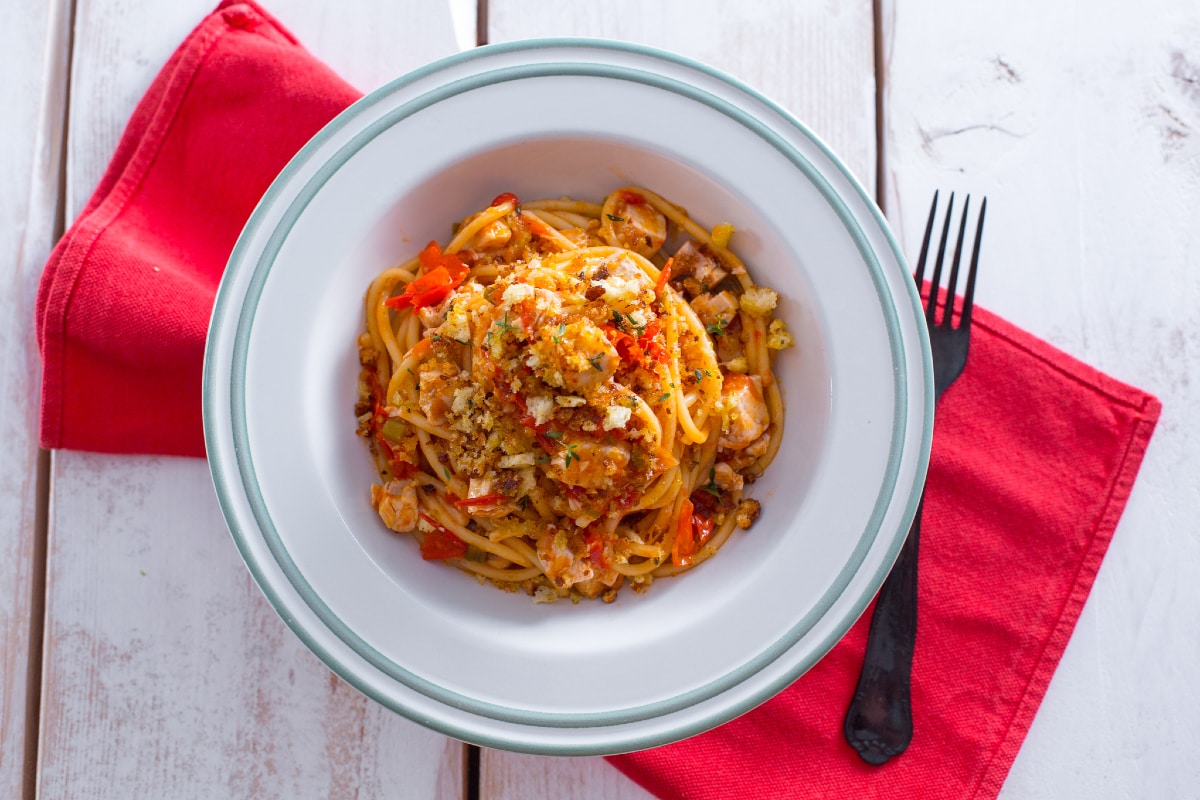 Difficulty: Average
Prep time: 20 min
Cook time: 40 min
Cost: Average
PRESENTATION
Swordfish is one of the most best-loved fishes in the kitchen due to its flavor and firm consistency: it features in delicious second and first courses, like spaghettoni with swordfish and breadcrumbs. The cherry tomato sauce is perfect paired with diced swordfish. This pasta dish is simple and quick to make; read on to discover its fragrant and crisp secret! A special touch to a simple but equally delicious, pasta with swordfish.
INGREDIENTS
Spaghettoni
¾
lb
(320 g)
Swordfish
1
lb
(400 g)
Cherry tomatoes
1
lb
(400 g)
Spring onions
1
Stale bread
2
oz
(80 g)
Fresh chili pepper
1
Thyme
to taste
Extra virgin olive oil
to taste
Fine salt
to taste
Preparation
How to prepare Spaghettoni with swordfish and breadcrumbs


To prepare the spaghetti start by cleaning and slicing the spring onions and half of the green part 1. Now remove the seeds from the peperoncino 2 and cut the cherry tomatoes into four pieces 3.

Place the spring onions in a pan with a little oil 4, add the peperoncino 5 and leave to brown on a medium flame for around 5 minutes. Now add the cherry tomatoes to the pan 6.

Cover with a lid and leave to cook for around 20 minutes, stir occasionally 7. In the meantime, dice the swordfish 8 into dices roughly 0.8 inches in size and place in a hot pan with a drizzle of oil 9.

Brown on a high flame for around 5 minutes 10 and add the thyme when nearly done 11; as soon as the cooking sauce evaporates, leave the swordfish to one side 12.

Prepare the breading: place the thyme 13 and pieces of bread in the mixer 14. Blend into coarse crumbs, then toast in a pan with a drizzle of oil 15. 

Add a pinch of salt and leave to brown, stir frequently 16. Cook the spaghetti in boiling salted water and drain when still very firm to the bite 17. In the meantime, add salt to taste to the sauce 18.

Place the pasta in the pan 19, add a ladle of cooking water and finish cooking the pasta 20, stirring frequently all the while 21.

Add the swordfish and sauté briefly 22, add a drizzle of raw oil before placing on dishes and serving 23. The spaghettoni are ready 24 to be served.
Storage

The spaghetti can be stored for no longer than one day, in the refrigerator.
Tips

Add a little tomato puree for an even creamier and flavorsome sauce.  For an aromatic note, add a little vodka to the swordfish, simmer and reduce.
SHARE

/5


Source : www.giallozafferano.com