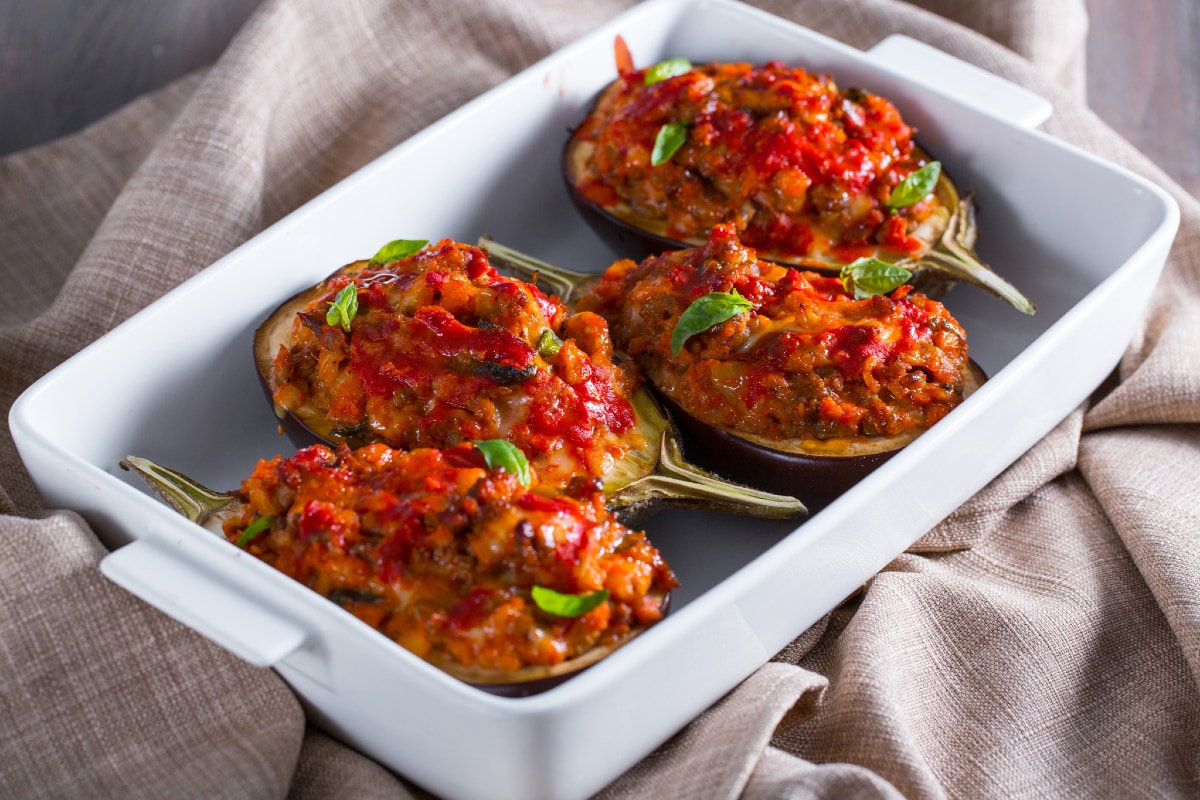 Difficulty: Easy
Prep time: 40 min
Cook time: 60 min
Serving: 4 people
Cost: Average
Note EDITOR'S NOTE: if you prefer softer eggplants and 30 minutes are not enough, you can decrease the temperature and extend the cooking time
PRESENTATION
Stuffed eggplant is a traditional rustic Spanish dish, which, over time, has become very widespread throughout Italy too, giving rise to an interesting array of variations. Every region has come up with its own version based on its typical products, and many would like to claim to be the original. Stuffed eggplant is also a family tradition, one of grandma's classic recipes, often cooked in the summertime in particular thanks to the abundance of this vegetable during that season. It's no coincidence that stuffed eggplant is great to eat either hot or cold! From north to south, eggplants are stuffed with a whole range of ingredients, including meat, pasta, vegetables, and rice, and, as a result, they can be served as appetizers, first courses, second courses, or side dishes, and even as desserts. Moving from region to region, besides changing the filling and type of course when it's served, the name changes as well based on the local dialect. Today, we've decided to show you one of the most classic recipes: The eggplants are emptied of their flesh, which is then cooked together with meat to create a tasty, flavorful filling. Covered with plenty of tomato sauce and sprinkled with mature pecorino cheese, they're given a final blast in the oven to meld all the flavors together. Stuffed eggplant is also a perfect dish to eat at room temperature on hotter days. Try it for yourself!
INGREDIENTS
Eggplant
1 ½
lb
(700 g)
Pork
⅔
lb
(300 g)
– ground
Tomato puree
1 ¼
cup
(300 g)
Onions
1
Stale bread
1 ¾
oz
(50 g)
White wine
¼
cup
(60 g)
Extra virgin olive oil
to taste
Basil
6
leaves
Black pepper
1
pinch
Fine salt
1
pinch
Caciocavallo cheese
6
oz
(175 g)
Preparation
How to prepare Stuffed eggplants


To make stuffed eggplant, first wash and dry the eggplants 1. Cut them in half longways, including the stem 2. Empty the insides of the eggplants 3. 

Chop the flesh roughly 4. Next, dice the onion 5. Pour some oil into a pan, then add the onion and stew for a few minutes 6. 

Add the meat and brown for 3-4 minutes7. Deglaze with the white wine 8, allowing it to evaporate, then add the eggplant flesh 9. 

Leave this to cook for 4-5, seasoning with salt and pepper, then pour in the tomato purée (be sure to save around 1¾ tbsp (30 g) for later) 10 and the basil leaves 11. Turn off the heat. Cut the stale bread 12 into small pieces and then blitz in a food processor. 

Grate the caciocavallo using a coarse grater 13. Add the breadcrumbs and cheese 14 to the pan and stir 15. 
Next, arrange the eggplants in a baking dish, drizzle with oil 16, season with salt 17, and then stuff with the filling 18. 

Pour over the tomato purée you set aside before 19, then dress with a splash of oil 20 and cook in a conventional oven preheated to 390°F (200°C) for 30 minutes. Once the stuffed eggplant has finished cooking, serve it piping hot 21.
 
Storage

You can keep your stuffed eggplant in an airtight container for up to one day. You can freeze after cooking if you used fresh ingredients.
Tips

We recommended choosing eggplants that aren't too big so they take less time to cook. There are a thousand ways to put a twist on the filling: making it spicier (by adding some chili to the meat), using only pork meat, only veal, or a combination of veal and pork. The choice is yours!
SHARE

/5


Source : www.giallozafferano.com