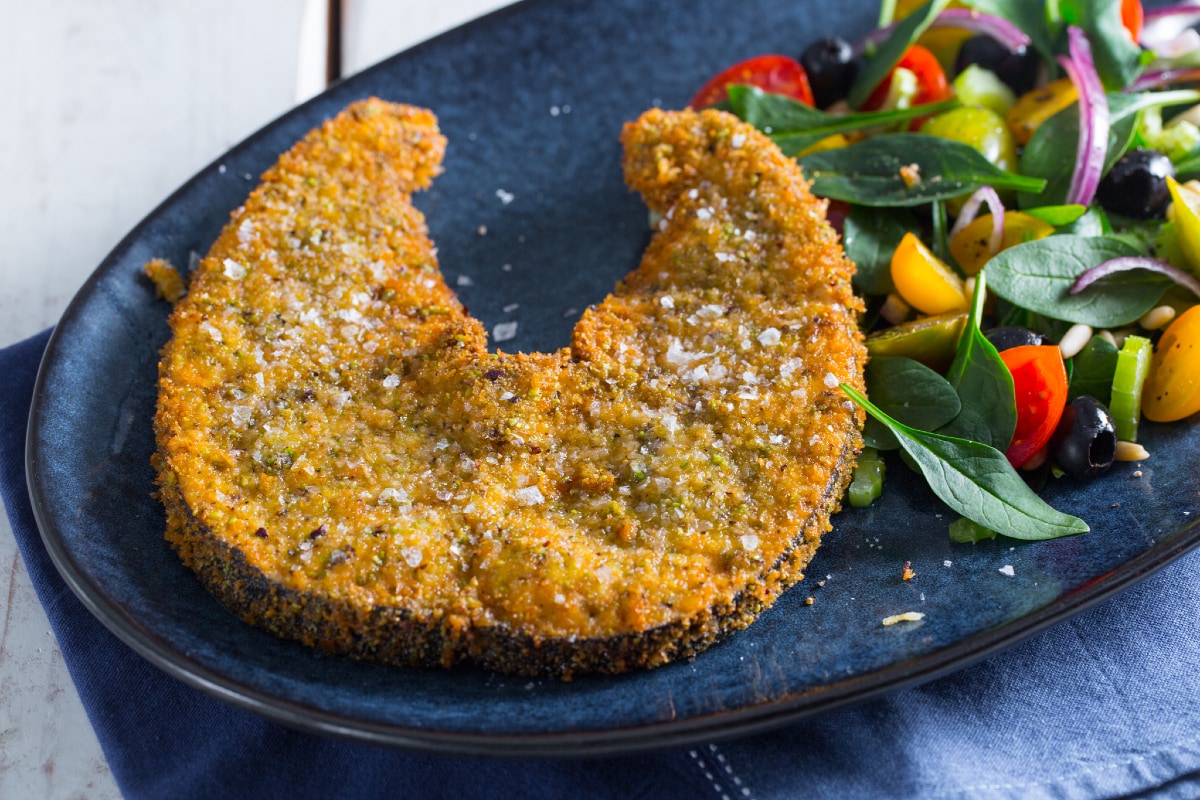 Difficulty: Easy
Prep time: 20 min
Cook time: 30 min
Cost: Average
PRESENTATION
Cutlet makes everyone happy at the table, whether classic or reinterpreted (like the one alla palermitana) or with fish, just like in this recipe: a swordfish cutlet with a golden and morish breading! What makes this fish-based second course so special is the panko breading, a special kind that is widely used in Japanese cuisine, that consists of crispy flakes. We added it to finely chopped pistachios, for an even more flavorsome and colorful note! You will be surprised when you discover just how easy it is to bring a dish with a gourmet touch to your table in so little time!
 
INGREDIENTS
Swordfish
4
slices
– (6 oz each)
Eggs
2
Panko
1
cup
(200 g)
Pistachios
1
cup
(150 g)
Extra virgin olive oil
to taste
Fine salt
to taste
Black pepper
to taste
Preparation
How to prepare Swordfish cutlet


To prepare swordfish cutlet, place the pistachios in the mixer 1 and blend into a powder 2. Stir the blended pistachios with the panko 3.

In this way you will have prepared the breading 4. Beat the eggs in a tray and dab the swordfish with some absorbent paper to dry it 6.

Dip the swordfish in the beaten egg 7 and then in the breading 8, so that every part is thoroughly coated 9.

Heat the oil in a pan to 320°-338°F 10, add the fish cutlet 11 and fry both sides in the oil 12.

When the surface is nice and golden 13, place it on some absorbent paper 14 and add salt to taste. Serve the swordfish cutlet nice and hot 15, accompanied with a fresh seasonal salad.
Storage

Enjoy the swordfish cutlet freshly made, to appreciate the characteristic crispiness of fried preparation. Freezing is not recommended.
Tips

Panko is a breading made with white sandwich bread. Here is the recipe so that you can prepare it at home: remove the crust from the sandwich bread, cut into strips and then blend. Set the speed to minimum and switch on for a few minutes. You will end up with rather large crumbs. Sprinkle the breadcrumbs on a tray to form a thin layer. It should be uniform and no thicker than 0.4 inches. Bake for 20 or 30 minutes in an oven preheated to 248°.
Check that the crumbs become crispy and stir occasionally. Remove from the oven and leave to cool before use. It is important not to close it inside a container when still hot, as the humidity will cause it to soften.
Instead of olive oil you can use a seed oil for frying.
The cutlet can be baked in a ventilated oven at 320°F for 30/35 minutes, be sure to turn it over half way into the cooking time.
SHARE

/5


Source : www.giallozafferano.com