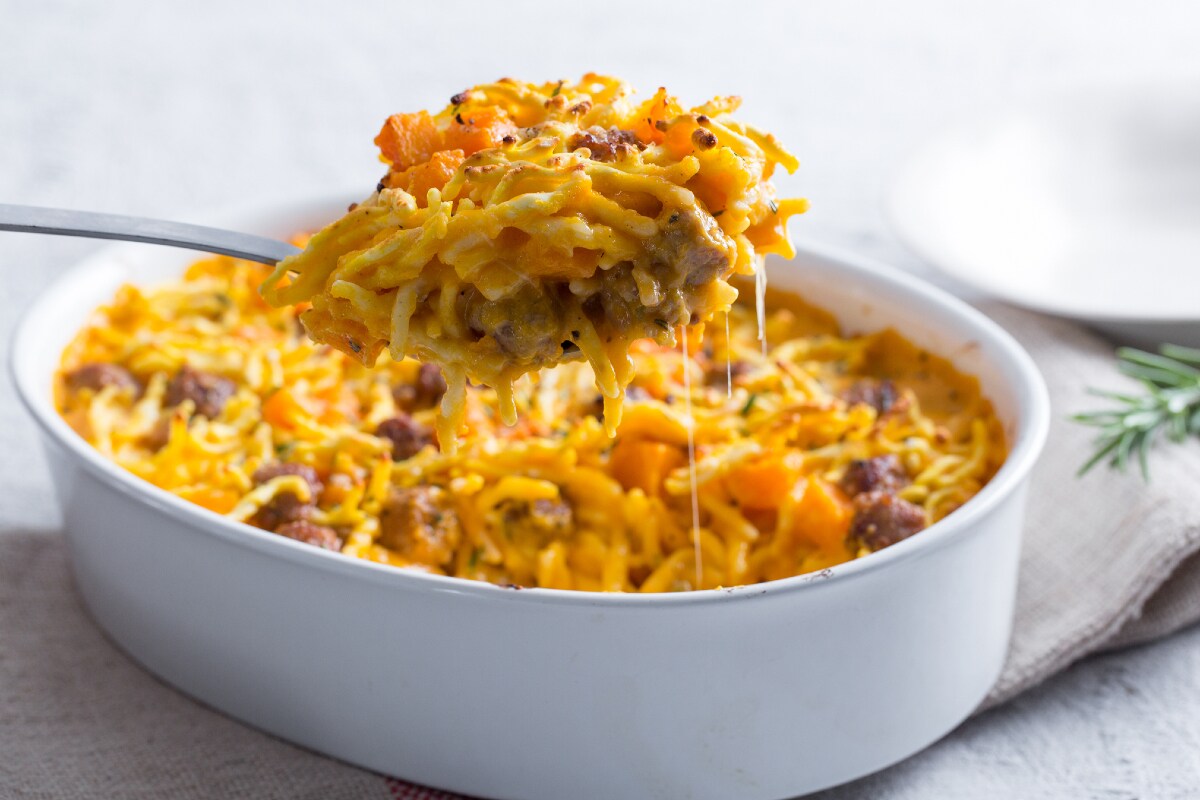 Difficulty: Easy
Prep time: 30 min
Cook time: 45 min
Cost: Low
PRESENTATION
Trofie are a Ligurian pasta shape traditionally served with pesto, although they are also ideal for making lots of other appetizing first courses! Baked trofie with sausage and butternut squash is a morish idea for your autumn menus: the creamy sauce with butternut squash and bechamel is enriched with pieces of sausages, rosemary and pulled curd cheese. The final broiling makes everything all the more inviting! Prepare trofie with sausage and baked butternut squash for Sunday lunch, or for dinner with friends and you'll see how everyone will finish them in no time at all!
INGREDIENTS
Trofie pasta
1
lb
(500 g)
– fresh
Butternut squash.
2
lbs
(1 kg)
Sausage
¾
lb
(300 g)
Provolone cheese
3
oz
(100 g)
Water
¾
cup
(200 g)
Dry white wine
3
tbsp
(40 g)
Garlic
2
cloves
Rosemary
to taste
Extra virgin olive oil
to taste
Fine salt
to taste
Black pepper
to taste
For the bechamel
Whole milk
1
cup
(250 g)
Butter
2
tbsp
(25 g)
Flour 00
2
tbsp
(15 g)
Nutmeg
to taste
Fine salt
to taste
For broiling
Grana Padano DOP cheese
2
tbsp
– for grating
Preparation
How to prepare Trofie with sausage and butternut squash


To make baked trofie with sausage and butternut squash, start by cleaning the butternut squash: remove the rind 1 and internal filaments; dice it into cubes roughly half an inch in size 2; you'll need around 1.7 lb of pulp. Heat a drizzle of oil in a pan, then add a garlic clove and a sprig of rosemary 3.

Add the butternut squash 4 and brown for a few minutes, then remove the garlic and the rosemary 5, add the water 6 and cook on a low flame for 10-15 minutes, or until the butternut squash is soft. Add salt to taste.

Once the butternut squash is cooked, leave a few spoons of cubes 7 to one side and blend the rest with an immersion mixer 8 into a smooth and homogeneous puree 9.

While the butternut squash cooks you can prepare the bechamel: heat the milk flavored with salt and nutmeg in a saucepan 10 and melt the butter in another saucepan 11. Once melted, add all the flour in one go 12.

Stir with a whisk for a couple of minutes to obtain a golden roux 13; add the hot milk 14 and leave the bechamel to thicken on the stove, stirring all the while 15. The consistency must be fluid and velvety.

Prepare the rest of the ingredients: decase and dice the sausage 16, do the same with the provolone cheese 17 and lastly, finely chop the rosemary 18. Bring some water to the boil in a saucepan and add salt.

Heat a little oil in a pan, add a garlic clove and then the sausage 19; brown for a couple of minutes. Season with the finely chopped rosemary 20, add the white wine, simmer and reduce 21.

Remove from the heat once the alcohol has evaporated and leave to one side 22. In the meantime, the pasta cooking water will have reached boiling point: add the trofie 23 and cook for half the cooking time. Add the bechamel to the butternut squash cream 24.

Stir thoroughly to amalgamate the sauce 25, drain the trofie and add them to the pan 26, followed by the diced butternut squash left to one side 27.

Add the sausage 28, the provolone cheese 29 and pepper 30.

Stir thoroughly 31 and place everything in a baking tray. Sprinkle with the grated Grana cheese 32 and bake in a static oven preheated to 464° for 10 minutes, until golden. Your baked trofie with sausage and butternut squash are ready to be served 33!
Storage

Baked trofie with sausage and butternut squash can be stored in the refrigerator for 2 days. You can freeze them before or after baking in the oven.
Tips

Add some diced speck or pancetta bacon for even more flavorsome baked trofie with sausage and butternut squash! Instead of bechamel you can use roughly the same amount of fresh liquid cream.
SHARE

/5


Source : www.giallozafferano.com