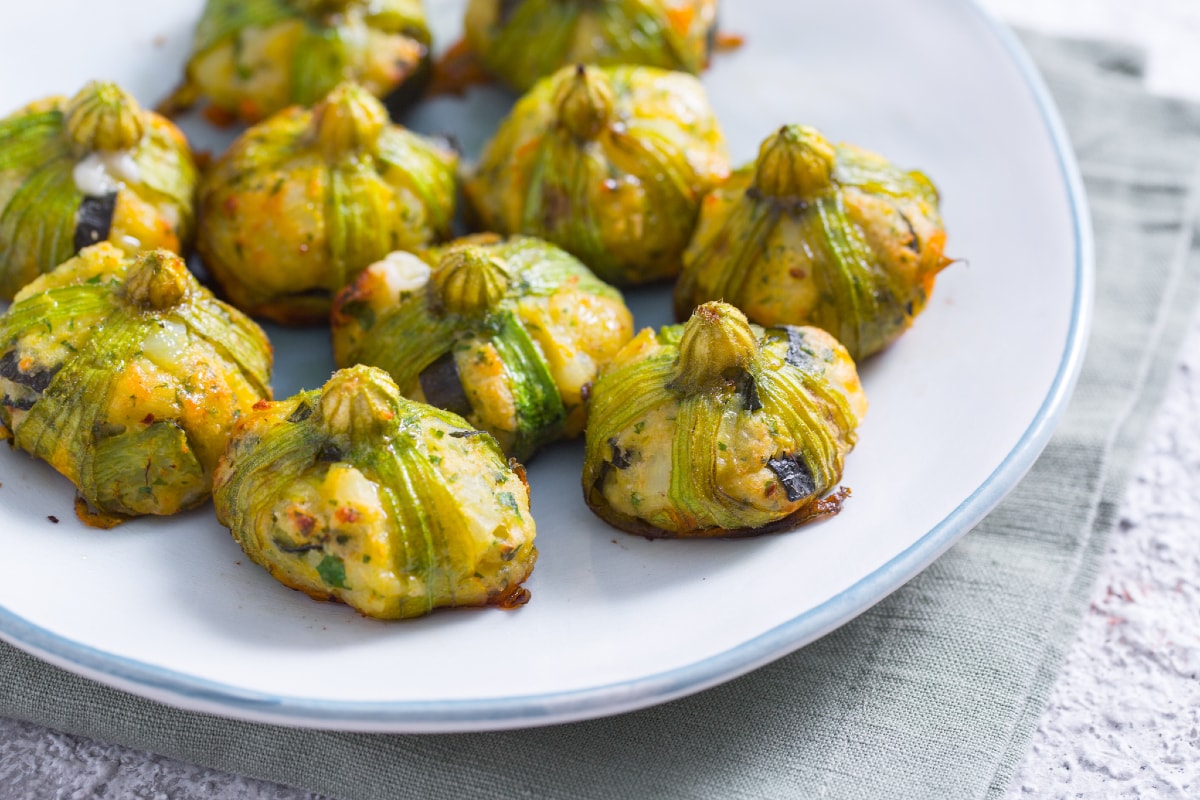 Difficulty: Easy
Prep time: 40 min
Cook time: 30 min
Cost: Average
PRESENTATION
It's the zucchini flower season! Delicate and delicious rays of sunlight that never fail to inspire in the kitchen. This time however we will not prepare them in batter, and we present a new, morish recipe: zucchini flower bundles. These delicious bites are filled with vegetables and melted cheese, which you'll discover right from the first bite. Perfect served as a finger food starter: these bites will bring cheer to your table!
INGREDIENTS
Zucchini flowers
16
Zucchini
3
Potatoes
3
Garlic
1
clove
Oregano
to taste
– fresh
Parsley
to taste
Extra virgin olive oil
to taste
Fine salt
to taste
Eggs
1
Parmigiano Reggiano DOP cheese
1
oz
(50 g)
– for grating
Breadcrumbs
2
tbsp
(20 g)
Provola cheese
1
oz
(50 g)
Preparation
How to prepare Zucchini flower bundles


To prepare the zucchini flower bundles, remove the stem 1, pistil 2 and pointy leaves around the flower. Cut into four pieces to obtain 4 separate petals 3.

Wash, tip and dice the zucchini 4. Peel and dice the potatoes 5. Crush the garlic in a large pan and brown it with a drizzle of oil 6.
Add the zucchini to the pan 7, then the potatoes 8 and add enough salt for the vegetables to release their water, then add the fresh oregano 9. 

Cover with a lid and cook on a medium flame for around 15 minutes, turn over occasionally. Once the 15 minutes are up, remove the garlic 11 and leave to cool in a large bowl. Coarsely mash the vegetables 12.

Add the egg, the Parmigiano, the chopped parsley 14 and the breadcrumbs 15. Add salt to taste and stir.

Dice the cheese 16. Remove a ball of the mixture 17, place one or two cheese cubes in the middle 18. 

Mold by hand to form balls that are not too big 19. Take a flower and place the ball in the middle of it 20. Wrap in the petals 21 to fully cover it  

Place the flowers on a tray lined with parchment paper. Add a drizzle of oil 23 and salt. Bake in a static oven preheated to 392°F for 15/20 minutes. The zucchini flower bundles are ready to be enjoyed 24.
Storage

Zucchini flower bundles can be stored for a couple of days in the refrigerator in a sealed container. Freezing is not recommended.
Tips

If the mixture is too soft or watery, add a few spoons of breadcrumbs.
SHARE

/5


Source : www.giallozafferano.com